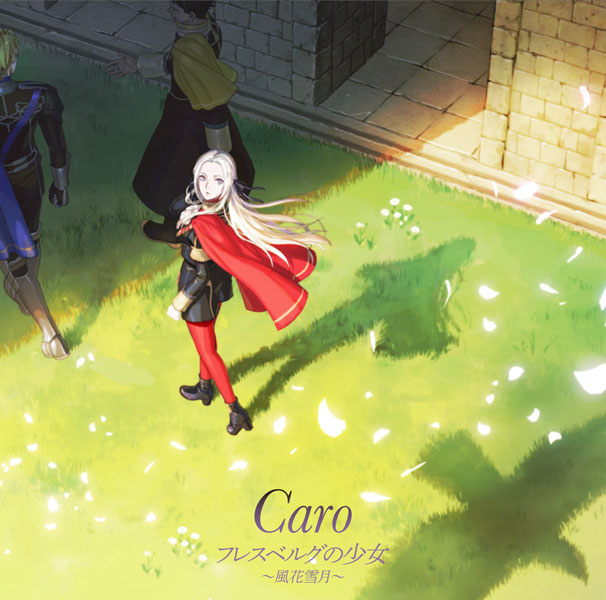 Intelligent Systems announced today that the Japanese main theme for Fire Emblem: Three Houses will be released on CD on August 7 in Japan. We've heard the main theme before, but now we know its official name: Hresvelg no Shoujo ~Kaze, Hana, Tsuki, Yuki~ (roughly translated: Girl of Hresvelg ~Wind, Flower, Moon, Snow~, with the last part also being the Japanese name of Three Houses, although read differently as "Fūkasetsugetsu", which roughly means four seasons). The artist is called Caro, and this will be her debut single. The CD release contains the title theme as well as two songs called "Fallin'" and Always Be Yourself" and will be sold for 1,167 Yen.
There's also a limited edition release (the cover of which you can see above) that also contains an additional song called "Hresvelg no Shoujo" (without the subtitle) as well as a DVD with two music videos of the main theme (a "Three Houses" version with scenes from the game and a more traditional "Caro" version) as well as a making of video of the recording sessions and an interview with Caro and Takezu Kanazai, a Music Director at Intelligent Systems. This limited edition will cost 1,667 Yen.
As a reminder, here's clip of the main theme on Youtube: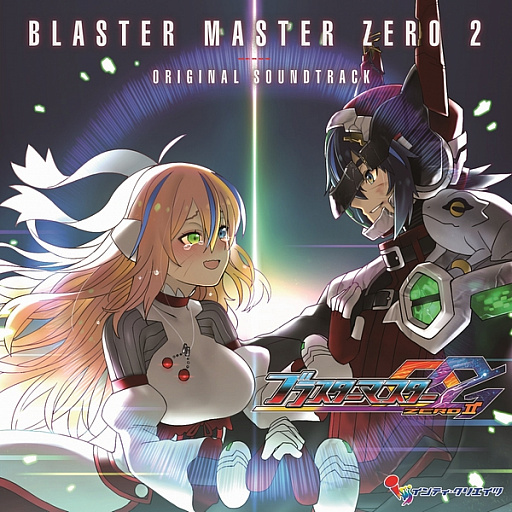 Inti Creates has announced that the soundtrack for Blaster Master Zero 2 will get a retail release in Japan on May 1st. A total of 38 tracks are featured on the soundtrack release, which also contains a 20-page booklet with comments from the developers. Pre-orders for the soundtrack, which will cost 2,000 Yen + taxes, will go live on April 23rd.
With the Octopath Traveler remix album "Octopath Traveler Arrangements – Break & Boost" available starting today in Japan, Square Enix has released two new promotional videos previewing some of the songs in the set.
Although the video is in Japanese, those interested can still listen to the samples in the trailers below.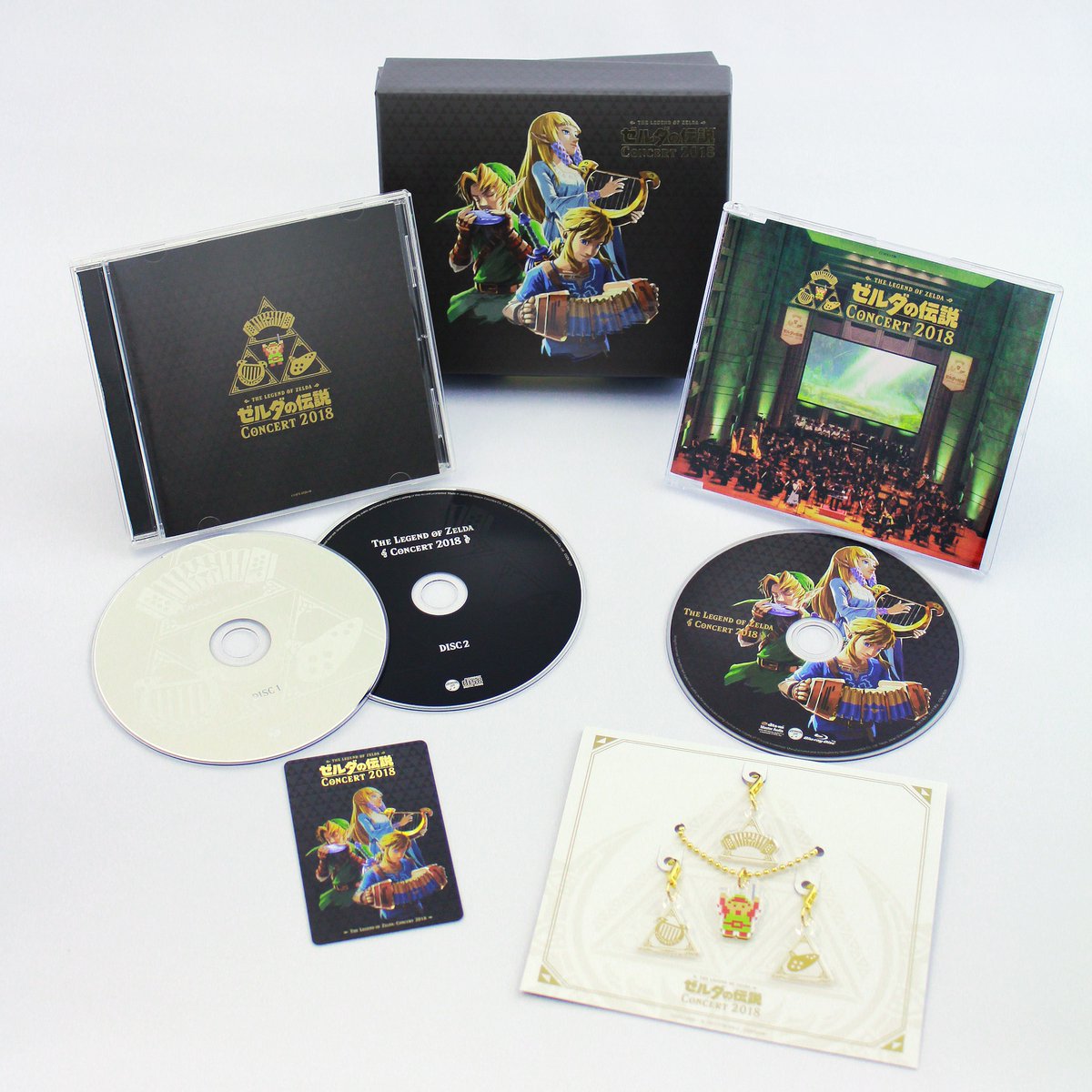 Announced last December, Nintendo will be releasing the The Legend of Zelda Concert 2018 music album on March 6 in Japan. A total of three Zelda orchestral concerts were held in Japan late last year, and this album release will feature recordings from those concerts. Today, Nintendo revealed some new information about the release.
In the image above, you can see the packaging and full contents of the limited edition album release, which contains two audio CDs, a Blu-Ray with a recording of one of the concerts held in Tokyo as well as a video of Zelda in-game footage that was shown on a screen at the concert, four acrylic charms and a metal plate with a Legend of Zelda design. The limited edition costs 5,500 Yen; there's also a regular edition with just the audio CDs for 3,000 Yen.
The full track list for both CDs was also revealed:
Disc 1:
Main Theme – Breath of the Wild
Breath of the Wild Medley – Hyrule
Zelda's Theme
Ocarina Melodies Suite 2018
Boss Battle Medley 2018
A Link Between Worlds & Tri Force Heroes Medley
Breath of the Wild – Champions
Disc 2:
Link's Awakening Medley
Breath of the Wild – Kass Medley
Horse Race
The Legend of Zelda ~Harp Lesson~
Breath of the Wild – Final Battle
The Legend of Zelda Main Theme
Nintendo Switch Presentation 2017 Trailer BGM
The Blu-Ray recording of the concert also has several talk segments interspersed between the songs.
The much-anticipated Dragon Marked for Death from Inti Creates recently released on Nintendo Switch, and one aspect the game was particularly praised for was its soundtrack. It maybe doesn't come as much of a surprise then that the Dragon Marked for Death soundtrack is getting a physical release in Japan. The soundtrack album will contain 77 tracks; it also comes with a 16-page booklet which includes a special cover drawn by character designer Toru Nakayama, comments from the developers and more. The soundtrack will be released on March 1st 2019 for a price of 4,000 Yen.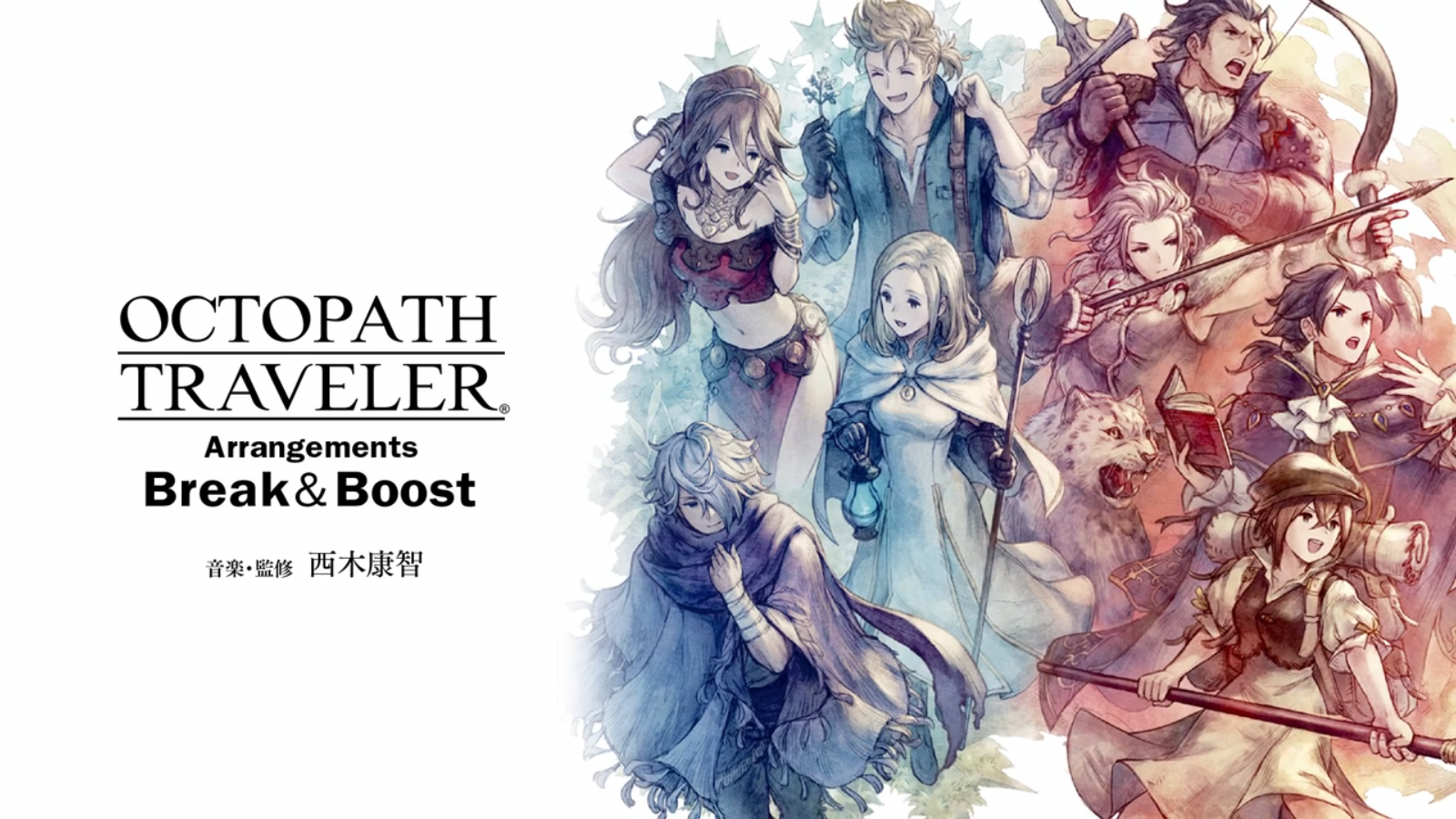 The Octopath Traveler remix album "Octopath Traveler Arrangements – Break & Boost" will be released in Japan next month, on February 20th. Today, Square Enix released a promotional video for the soundtrack album, showing the recording process as well as composer Yasunori Nishiki talking about the album. Even if you don't speak Japanese, the video is well worth the watch since it also features a couple of previews of the remixed songs: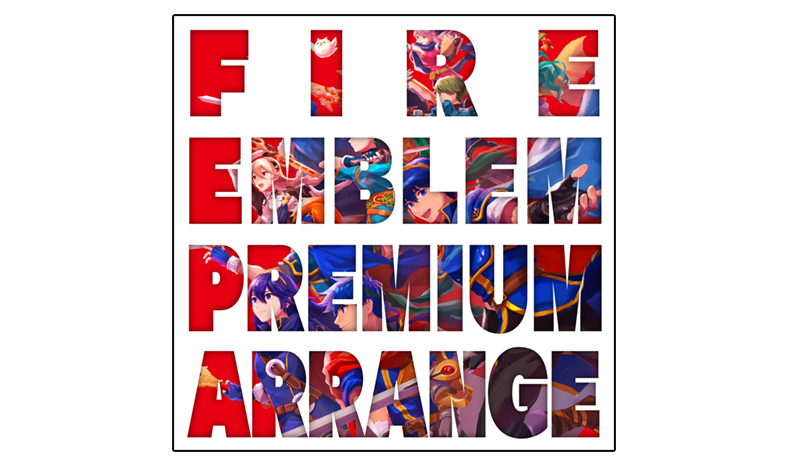 One of the events happening at Fire Emblem Expo on May 4 will be a special concert featuring new re-arrangements of many iconic tracks from across the series. Don't worry if you won't be able to attend the event though – a music album containing all of these new re-arrangements will be released in Japan on March 20. It'll cost 3,200 Yen. You can listen to samples of the tracks on Intelligent Systems' website here.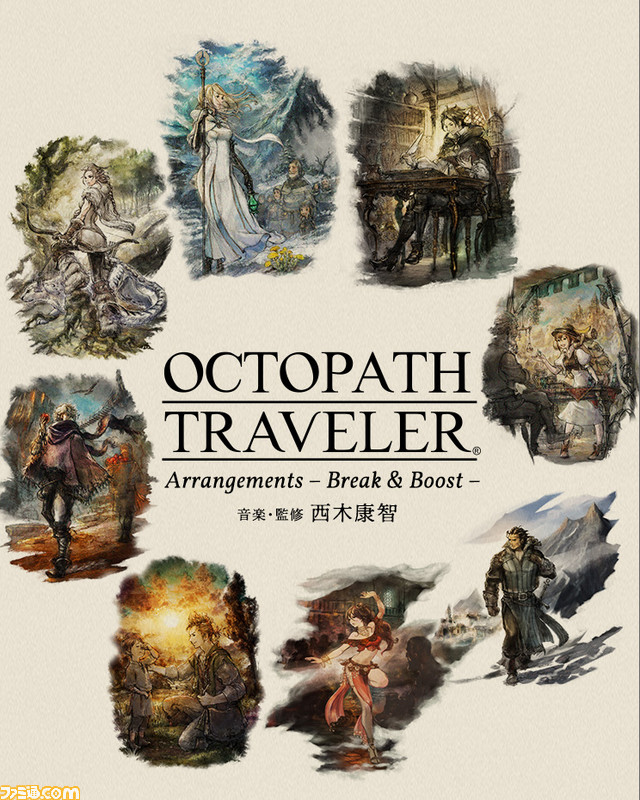 Octopath Traveler's music has received a lot of praise, and the standalone soundtrack has been available to purchase for a while now. However, Square Enix isn't quite done with the game's soundtrack yet. On February 20 2019, an Octopath Traveler remix album called "Arrangements – Break & Boost -" will be released in Japan. Supervised by the composer of the game's original soundtrack, Yasunori Nishiki, this album will remix songs in two different styles: the "Break Side" will contain piano arrangements of songs, while the "Boost Side" will be more modern band arrangements. Each "side" contains six tracks; here are the songs that are on the "Break Side":
The Frostlands
Primrose, the Dancer
Determination
A Settlement in the Red Bluffs
Orewell, Beneath the Crags
Decisive Battle II
And these six tracks are on the "Boost Side":
Battle I
Decisive Battle II
They Who Govern Reason
Battle At Journey's End
Daughter of the Dark God
Octopath Traveler Main Theme
The soundtrack will be released on February 20, 2019. It will cost 3000 Yen.

Nintendo and Intelligent Systems will be releasing the soundtrack of the first two GBA Fire Emblem games, Binding Blade and Blazing Blade, in Japan on December 19. The soundtracks for both games will be released as one package with several goodies included for 5,200 Yen.
A total of 170 tracks will included on five discs – 70 tracks on two discs for Binding Blade and 100 tracks on three discs for Blazing Blade. Each game also gets its own 8-page, full-color booklet with illustrations and interviews. Also included is a bonus disc called "Fire Emblem Music Box" featuring rearrangements of ten tracks from both games in the style of a music box. The final item in the box is a "sound rubber strap", a sort of rubber cushion that press a variety of sound effects from both games when you squeeze it.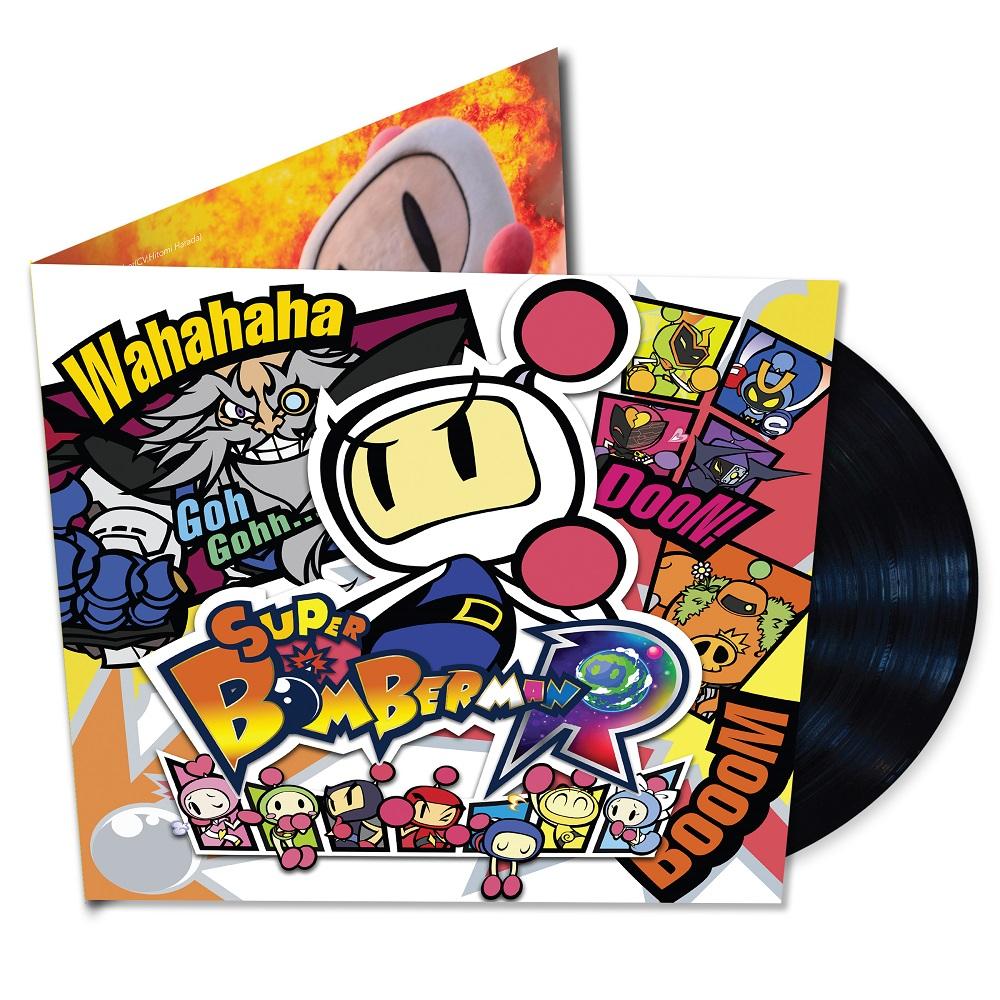 Konami has announced that they are working with premiere video game soundtrack record label Sumthing Else Music Works to release an official vinyl soundtrack for Super Bomberman R.
This coveted collector's item is set to become available on or around November 23, and pre-orders are now open through Sumthing Else's direct-to-consumer online store. The track list for the music collection is included below.