Through the Darkest of Times lands on Switch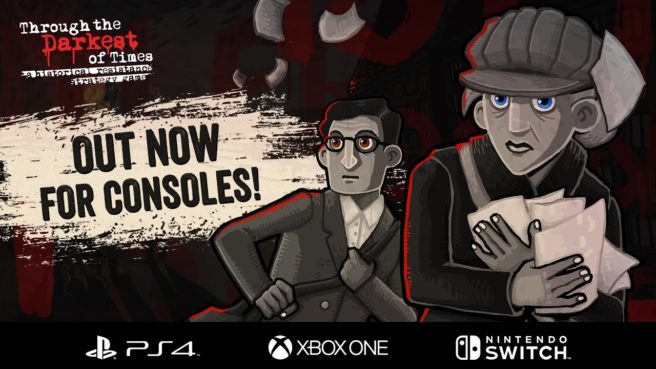 Publisher HandyGames and Paintbucket Games have announced that they're releasing Through the Darkest of Times on Switch. The historical resistance strategy game should launch within the next day on the eShop.
Here's an overview of Through the Darkest of Times, along with a trailer:
Through the Darkest of Times is a historical resistance strategy game. Its focus lies on conveying the grim atmosphere of the period and the very real struggles of average people living in the 3rd Reich. Historical accuracy means that a small group of resistance fighters will not change the outcome of the war, nor will they prevent all of the Nazi's atrocities, but they will certainly do everything in their power to save as many lives as they can and inhibit the fascist system as best they can.

Key Features

Experience 4 historically accurate chapters on your console
Fight for freedom, weaken the regime and lead your resistance group
Plan activities, find collaborators and don't get caught
Feel the weight of responsibility as you make difficult decisions and face dire consequences
Beautifully illustrated expressionistic scenes and events
Updated UI and performance optimization for the best possible mobile experience
Pricing for Through the Darkest of Times is set at for $14.99 / €14.99 / £13.49 on the Switch eShop.
Source: HandyGames PR
Leave a Reply