Tomorrow Corporation's games not guaranteed for Switch launch next week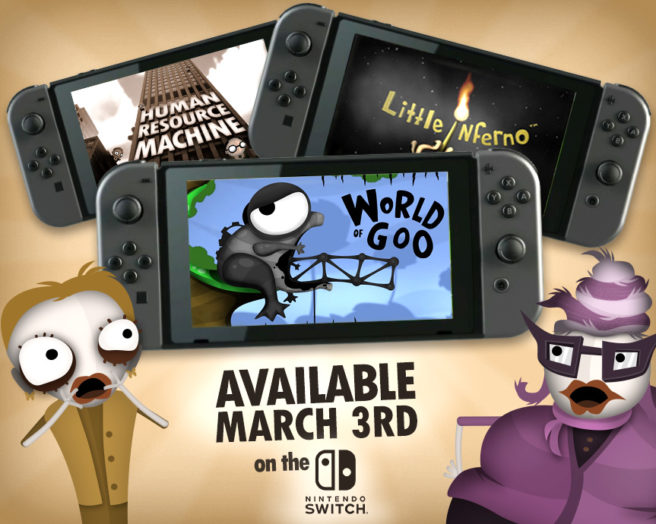 Tomorrow Corporation previously announced three eShop releases for Switch launch. World of Goo, Little Inferno, and Human Resource Machine were all previously on track for March 3. However, there could be a bump in the road.
True to his lighthearted nature, Tomorrow Corporation's Kyle Gabler told Polygon the following when asked if the company is still on board for Swich's launch:
"We hope we can make it! We're still just 3 people, trying to launch 3 games on March 3rd — and it's going to be close. For reference, the Zelda team has approximately 2.9 billion people and a really fast horse, but we're close behind. Save some champagne for us, Nintendo, we're going to be bloody and tired and maybe not all 3 of us will make it alive, but we're going to get there, and the games will be stunning!"
For Nintendo's part, they're only saying the following:
"In addition to Fast RMX, Shovel Knight: Specter of Torment and Shovel Knight: Treasure Trove, day-one digital titles on the eShop will include The Legend of Zelda: Breath of the Wild, 1-2-Switch, Super Bomberman R and Just Dance 2017."
By the way, those hoping that previous purchases of Tomorrow Corporation's games from older Nintendo systems can't be transferred in any way. "We cannot comment on the content of each game, but we have nothing to announce regarding past purchases carrying over," Nintendo said.
Leave a Reply