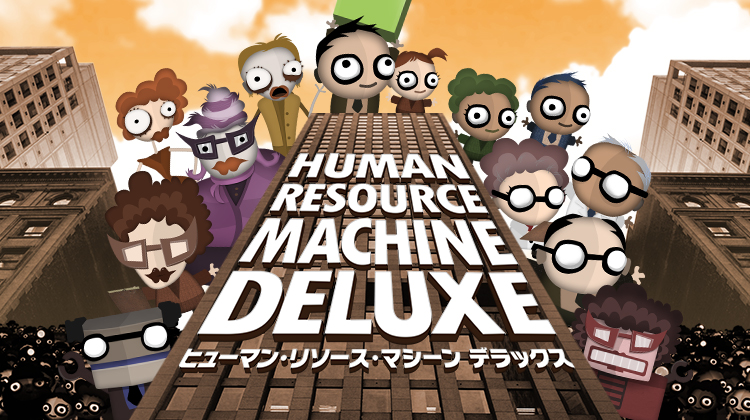 Human Resource Machine and 7 Billion Humans are going physical in Japan. The two games will be combined and released as Human Resource Machine Deluxe, Chorus Worldwide revealed today.
At this time, only a Japanese release has been confirmed. With that in mind, if the package doesn't head west, it will likely support English and importing shouldn't be an issue.
Human Resource Machine Deluxe will be shown off at Tokyo Game Show 2019 next month.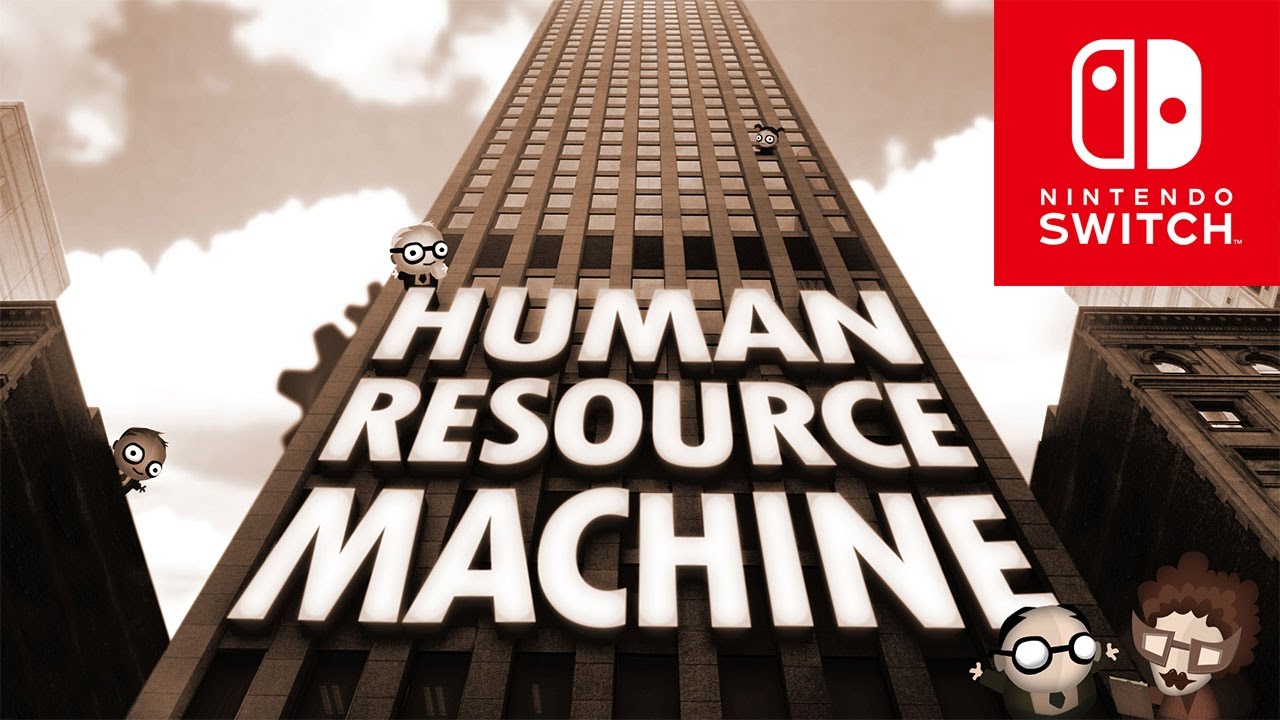 Human Resource Machine is one of three Tomorrow Corporation games heading to the North American Switch eShop today. Take a look at some footage below.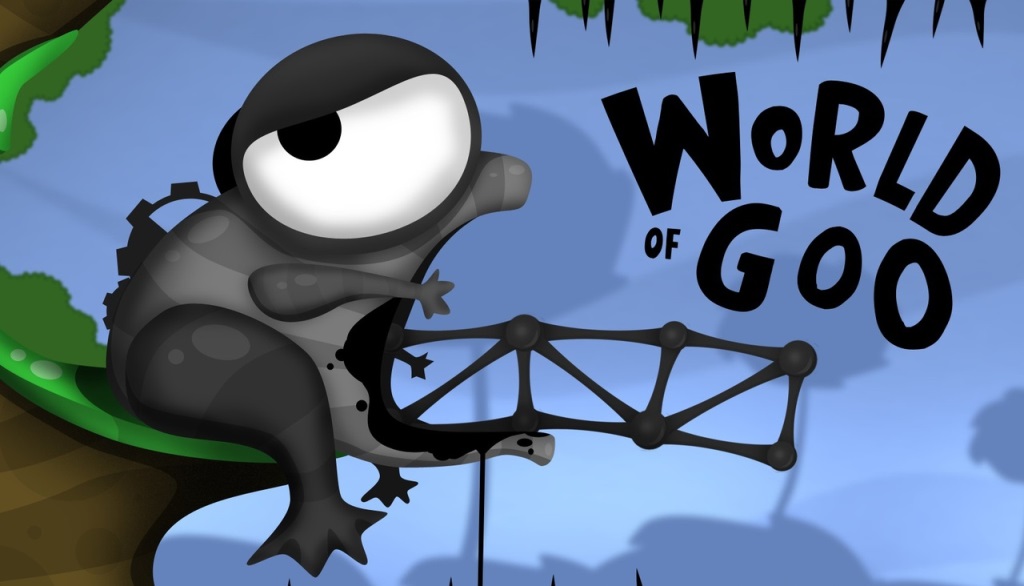 Kyle Gabler, who has worked on World of Goo, Little Inferno, and Human Resource Machine, has released trailers for all three games on his YouTube page, in anticipation of their Switch releases. You can watch them each down below: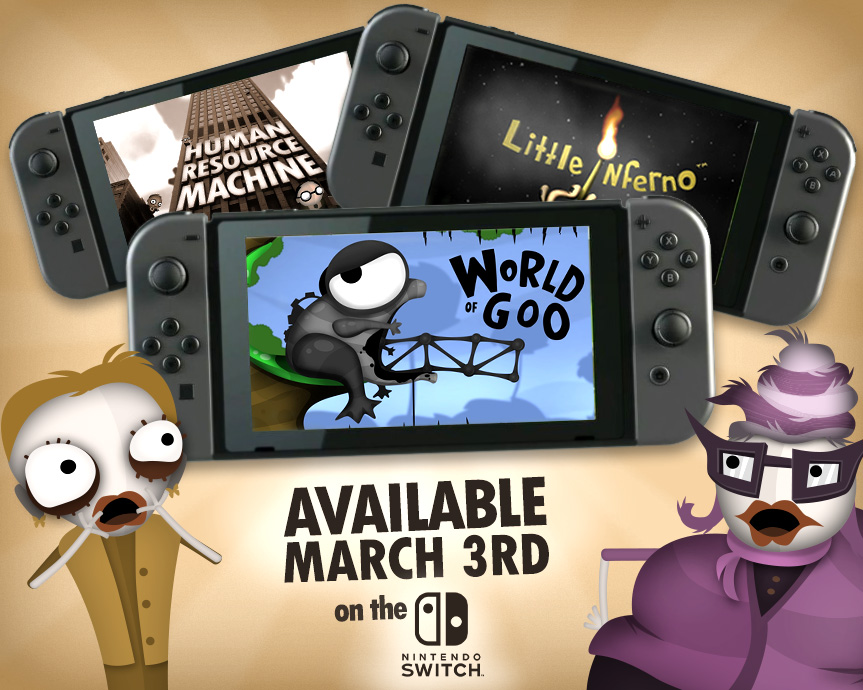 Tomorrow Corporation previously announced three eShop releases for Switch launch. World of Goo, Little Inferno, and Human Resource Machine were all previously on track for March 3. However, there could be a bump in the road.
True to his lighthearted nature, Tomorrow Corporation's Kyle Gabler told Polygon the following when asked if the company is still on board for Swich's launch:
"We hope we can make it! We're still just 3 people, trying to launch 3 games on March 3rd — and it's going to be close. For reference, the Zelda team has approximately 2.9 billion people and a really fast horse, but we're close behind. Save some champagne for us, Nintendo, we're going to be bloody and tired and maybe not all 3 of us will make it alive, but we're going to get there, and the games will be stunning!"
For Nintendo's part, they're only saying the following:
"In addition to Fast RMX, Shovel Knight: Specter of Torment and Shovel Knight: Treasure Trove, day-one digital titles on the eShop will include The Legend of Zelda: Breath of the Wild, 1-2-Switch, Super Bomberman R and Just Dance 2017."
By the way, those hoping that previous purchases of Tomorrow Corporation's games from older Nintendo systems can't be transferred in any way. "We cannot comment on the content of each game, but we have nothing to announce regarding past purchases carrying over," Nintendo said.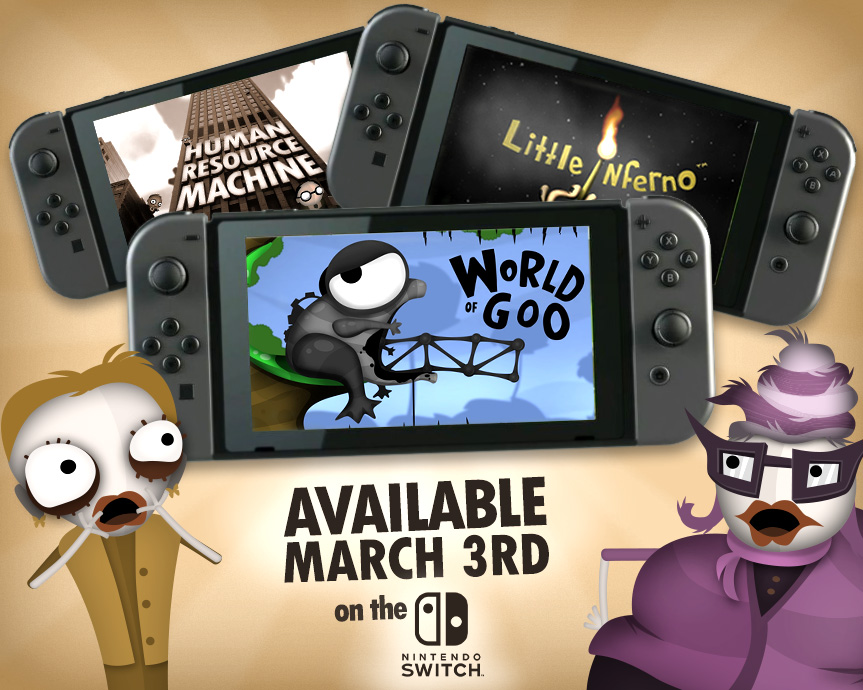 We recently fired off some questions to Tomorrow Corporation's Kyle Gabler in hopes of learning a bit more about World of Goo, Little Inferno, and Human Resource Machine on Switch. What we didn't expect were incredibly entertaining replies, making for one of our zaniest interviews yet.
We did ask Tomorrow Corporation about its initial slate of Switch titles. Additionally, Gabler teased future projects. Two are on the way, one of which is the biggest game yet from Tomorrow Corporation.
You can read our full interview with Tomorrow Corporation below.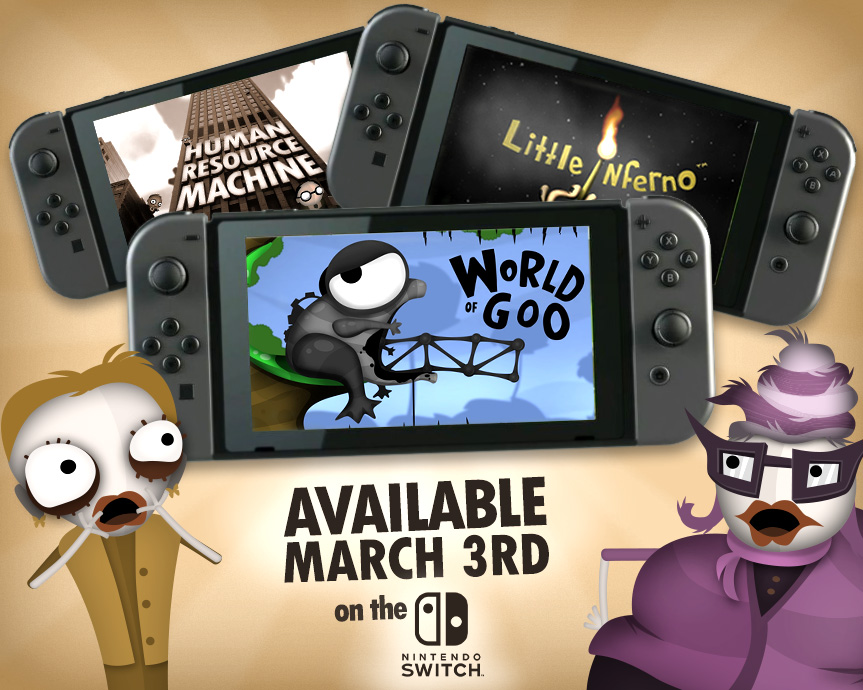 Tomorrow Corporation recently announced that World of Goo, Little Inferno, and Human Resource Machine will be ready for Switch's launch on March 3. Just in case you had any doubts, Europe is getting all three games on the same day. It'll be a simultaneous release.
Tomorrow Corporation also said that its games work with all three Switch modes. That means you'll be able to play the titles on your television (or any other way you see fit).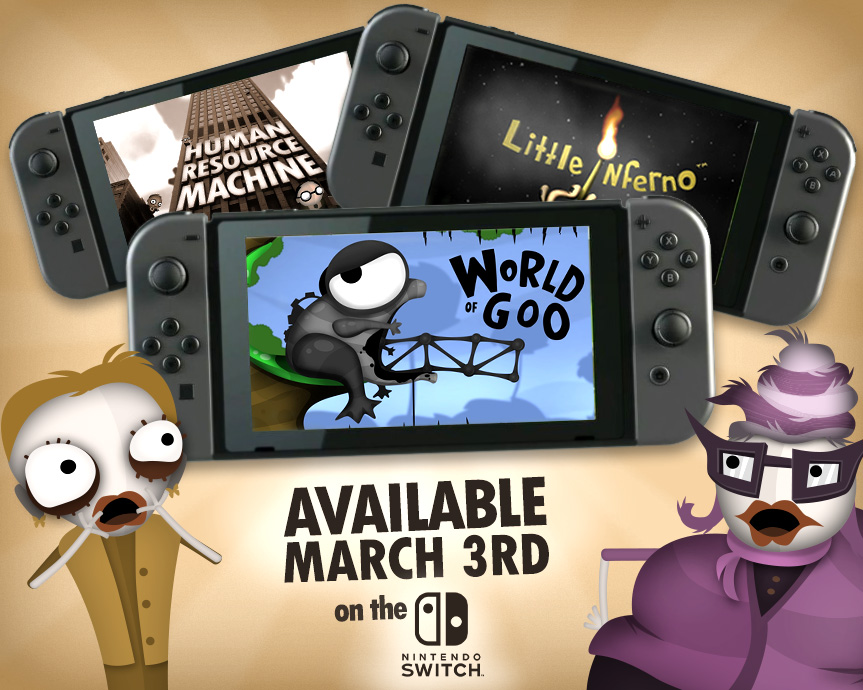 Three more games are heading to Switch for the console's launch. World of Goo, Little Inferno, and Human Resource Machine will all be out on March 3.
World of Goo previously ended up on Wii, while Little Inferno and Human Resource Machine were originally made for Wii U. New to the Switch versions is a Soundtrack Mode. Here, "players can explore Kyle Gabler's wonderfully bizarre music in this special mode".
For those who haven't heard about these titles previously, here's a look at each one: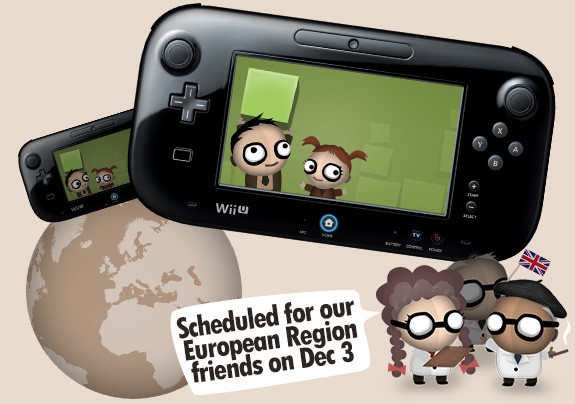 Human Resource Machine now has a release date in Europe. Today, developer Tomorrow Corporation confirmed that the title is due out on December 3. It will be playable in several languages: English, French, Italian, German, Spanish, Dutch, and Russian.
Also, a patch for Human Resource Machine will be going live in North America on November 24. This brings the game up to date with the other versions, including the additions of French and Brazilian Portuguese plus a "slight tweak to jump arrows to make them easier to keep track of."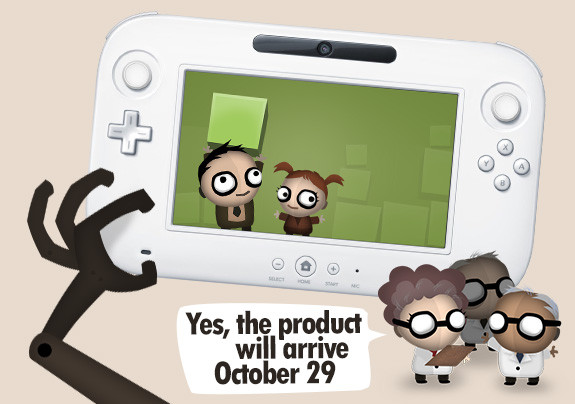 Tomorrow Corporation brought Human Resource Machine to the eShop yesterday. Check out some footage from the Wii U version below.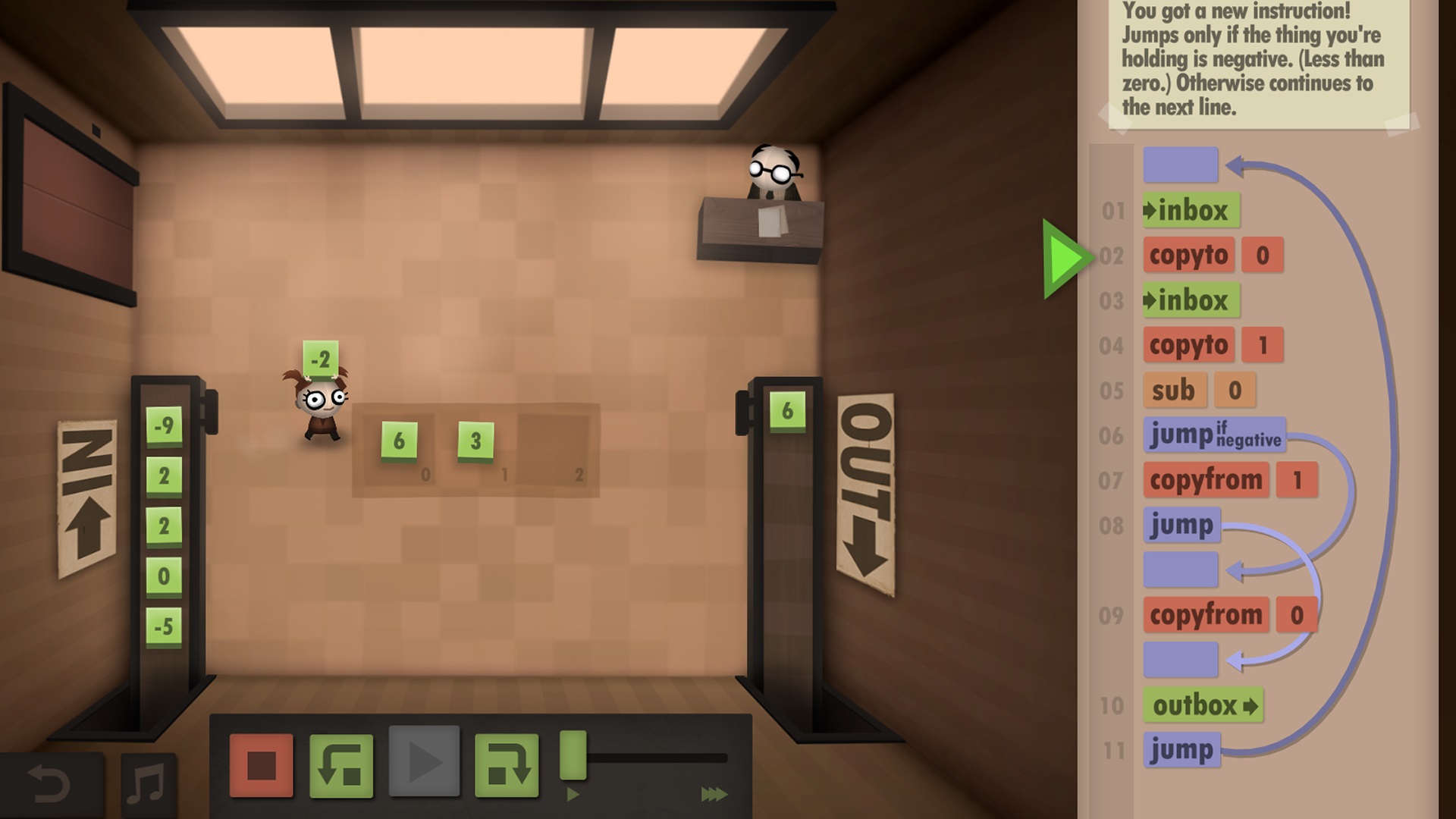 GiantBomb has posted another 47 minutes of footage from Human Resource Machine, which is heading to the Wii U eShop this week. View the latest video below.