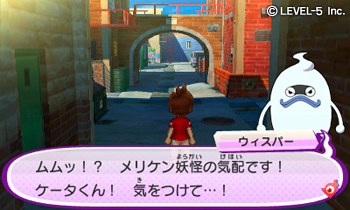 Following CoroCoro's coverage, Level-5 has shared a bunch of new information about Yo-kai Watch 3.
When the game was announced last year, it was confirmed that the game will have two protagonists and takes place in two countries. Keita and Jibanyan's story will be in St. Peanutsburg, USA while Inaho and USApyon's story will be in Sakura New Town, Japan. Sakura New Town has a new map Aobahara (reference to Akihabara), along with a NyaKB48 Theater (reference to AKB48).
Yo-kai Watch 3 will have a brand new battle system with the Tactics Medal Board. Placements of the medals on lower screen's board will also determine yo-kai positions at upper screen. Players will be able to do things like make a formation, evade enemy attacks, and switch in reserve yo-kai.
Keita and Inaho will be wearing a new type of yo-kai watch named Yokai Watch Dream. This watch can also summon yo-kais with a roulette, and there's also a chance for failure here. There is also a new type of yo-kai medal named Yokai Dream Medal. More information about the new watch and medal will be coming in future information batches.
Yo-kai Watch 3 will have over 600 yo-kai in total. Among the new yo-kai introduced are American Yo-kai and Great Legend Yokai.
The new bosses in Keita's USA part will also look very American. For example one of the bosses is a lump of garbage scraps.
Finally, here's a roundup of bonuses:
Physical Sushi version bonus: Yokai Dream Medal of KK Brothers
Physical Tempura version bonus: Yokai Dream Medal of Tomnyan
Digital Sushi version bonus: Sushi Jiba
Digital Tempura version bonus: Ten Koma
Having Yo-kai Sangokushi save will unlock three General Yokais: Komasan Sun Ce, Jibanyan Liu Bei and USApyon Zhongda
Having Yo-kai Watch Busters: Red Cat save will unlock: B Jibanyan
Having Yokai Watch Busters: White Dog save will unlock: B Komasan
Having Yo-kai Watch 2: Genso save will unlock: Jibanyan S
Having Yokai Watch 2: Honke save will unlock: Komasan S
Having Yokai Watch 2: Shinuchi save will unlock: Komajirou S
Leave a Reply