Two Point Hospital update out on Switch today, adds Sonic the Hedgehog items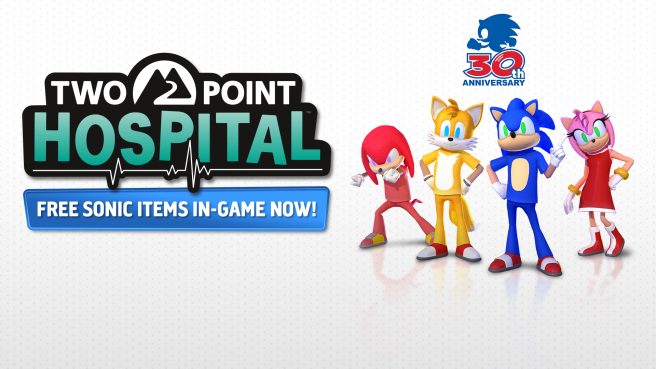 Starting today, Two Point Hospital players on Switch can access a new update. The highlight is that new items based on Sonic the Hedgehog have been added for free.
Staff can be clothed on costumes featuring Sonic, Amy, Knuckles, and Tails. Items include a Sonic statue, decorative rugs, and a giant Gold Ring.
Here's a trailer:
And the full patch notes for today's update:
Added Free Sonic 30th Anniversary Item Pack (Sonic, Tails, Knuckles, Amy Outfits and seven items) for all players.
Fix for a crash on the Topless Mountain level when starting training in certain situations.
Fix for Assistants sometimes not being able to find the Reception Desk item after moving it.
Fix for Staff having broken textures on outfits when having worn Surgery clothes
Fix for Café being able to function without a Food Bin and Café Table
Fix for texture quality on Dimension Door item
Fix for external hospital windows in Room Templates
Fix for UI on Pod Item in Wards
Leave a Reply