UK My Nintendo Store reveals Pokemon Legends: Arceus pre-order bonuses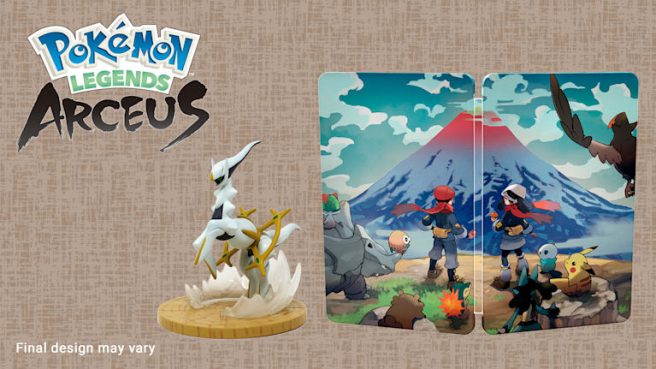 We still have a few months to go until the launch of Pokemon Legends: Arceus, but the game is now up for pre-order on the UK My Nintendo Store with bonuses.
Fans will be supplied with not one, but two special items. Along with a steelbook, a figurine of Arceus will be provided. These bonus items are subject to availability while supplies last. If you already pre-ordered from the UK My Nintendo Store, your order will be automatically upgraded.
If Pokemon Brilliant Diamond and Pokemon Shining Pearl are anything to go by, we'll likely be seeing various bonuses from North American retailers as well. For the two games' Double Pack, GameStop is offering a pin set while Target has a journal up for grabs. There isn't any news just yet regarding any incentives for Pokemon Legends: Arceus stateside yet, but we'll keep an eye out for any news.
You can pre-order Pokemon Legends: Arceus with the two bonuses from the UK My Nintendo Store here. The game is planned for release on January 28, 2022. You can see the latest trailer here. We also have news about some of the new Pokemon you can expect to see – specifically Wyrdeer, Basculin, Hisuian Braviary, and Hisuian Growlithe – here.
Leave a Reply