Video: Sonic Colors: Ultimate Wii vs. Switch vs. PS4 graphics and load times comparison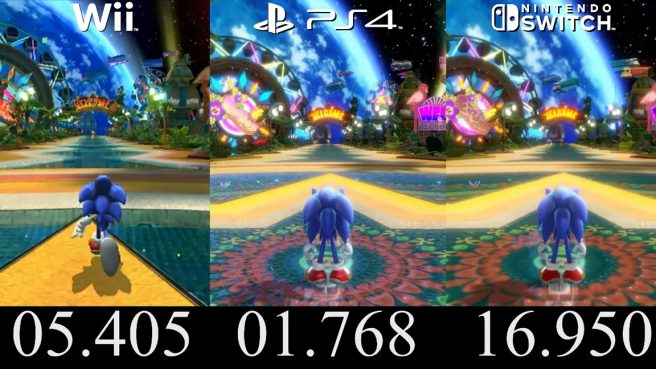 You may recall that after Sonic Colors: Ultimate was announced a few months ago, we shared a comparison video. That was really meant to show how the art style has changed in Ultimate compared to the original game.
Now that folks are starting to get their hands on Sonic Colors: Ultimate, we have a second video comparison. GameXplain captured some footage that shows off the Wii, Switch, and PS4 versions together. Not only do we get to compare things from a visual perspective, but load times as well.
As far as art style goes, not much has changed since the reveal. However, the game runs at 30 frames per second on Wii and Switch whereas it's 60 on other platforms.
In terms of load times, it unfortunately looks like Sonic Colors is way back in the pack. PS4 does load the fastest, but Wii is in second place. Loading appears to take significantly longer on Nintendo's current console. Based on the Sonic Colors comparison, the first stage takes about two seconds to load on PS4, a bit over five seconds on Wii, and nearly seventeen on Switch. The second level is two seconds for PS4, four for Wii, and eleven for Switch.
Here's the full comparison:
Sonic Colors: Ultimate officially launches for Switch on September 7. Those that pick up the Digital Deluxe version can play the game now.
Leave a Reply