WayForward details Shantae: Half-Genie Hero's Costume Pack DLC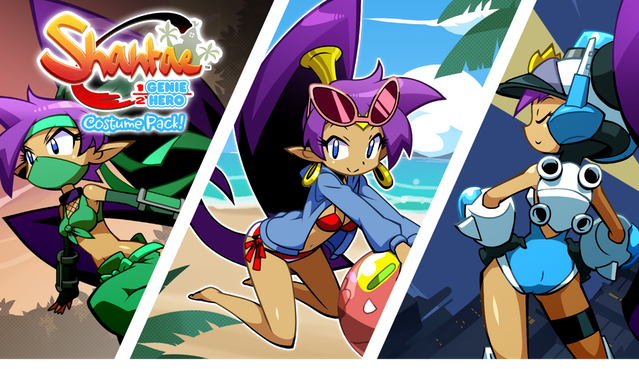 WayForward published an update today on their Kickstarter page for Shantae: Half-Genie Hero, detailing the final stretch goal: the Costume Pack DLC. The content boasts three new adventures, featuring Ninja Shantae, Beach Shantae, and Officer Shantae. The developer notes the upcoming DLC will be launching in a few weeks.
See below for the full details:

A Stylish Game-Changer!

Welcome friends! Today we're diving into the Costume Pack DLC! This is the FINAL Stretch Goal for Shantae: Half-Genie Hero, and it will be Ret-2-Go in just a few weeks!

This DLC contains three entirely new adventures starring Ninja Shantae, Beach Shantae, and Officer Shantae. Each of these stand-alone modes contains a full "what-if" storyline, new moves, voices, and character artwork. Let's take a closer look at these flashy game-changing modes!

Ninja Mode!

Shantae decides to become a become a Ninja Master – but first she must undergo intense training! Speed, Stealth, Self-control! She must learn the way of the ninja to defeat her greatest foe.

As a ninja, Shantae moves at super speed. This time out she can't transform, but she can wall jump, teleport, and throw kunai & throwing stars at enemies. Collect Gems to power up your moves, and search out new Dream Squid locations in hopes of finding them all. Do that, and you'll unlock exciting Ninja themed win screen images.

Beach Mode!

Shantae finally takes a day off, and her heart is set on finding the "Very Best Beach" in all of Sequin Land! However, rival sunbathers, competitive shell collectors, and other "shallow" minded foes get between Shantae and her fun day in the sun.

In this mode, you'll play as Shantae in her swimsuit! She attacks with her ponytail as per usual, but also use a bouncing Beach Ball Attack to hit distant targets. Dancing is replaced by a bubble move, which allows Shantae to float through the air! Just don't let her bubble pop – or she'll plummet to the ground! In water, Beach Shantae moves at high speed. So far, so good! What's the catch? Is there a catch?

Yes, here's the catch – the sun, it burns! Shantae's delicate skin is not used to all this exposure to the elements (please humor us on this one)! Over time, she'll begin to heat up and eventually will begin to take Burn Damage. To combat this problem, players will be able to cool her off by collecting sunscreen placed around the levels, or by taking a quick dip! Help Shantae beat the heat and unlock the best win screens!

(Safety Tip: Swimming doesn't actually protect a person from sunburn. In some cases, it can make it worse. Beware, and be aware).

Officer Mode!

Shantae gets a crossover event with Patricia Wagon from WayForward's own Mighty Switch Force series!

As an officer of the law, Shantae is tasked with re-capturing the escaped Space Hooligans and clearing each stage!

In her Officer Costume, Shantae can use the Siren Helmet to "Switch Up" solid blocks scattered about each stage. Controlling the position of these blocks will allow her to solve puzzles and navigate around. Just don't let her get smashed into the screen! Shantae also gets an upgradable Pellet Gun in place of her usual ponytail attack, useful for blasting monsters to shreds.

Unlike the "Mighty Switch Force" games, Shantae won't have to collect every Hooligan to clear a stage. However, collecting them all and getting the best times will unlock special win screens, so try your best!

Code Distribution for Costume Pack Coming Soon!

We'll be back in a couple of weeks to discuss code distribution! As always, our goal is is to deliver the Costume Pack DLC to Backers well before it goes public. Codes have been requested, and you can expect us to turn the town upside down in order to make that happen. By now you know that it doesn't always go to plan, but please know that we do everything in our power to serve Backers first!

Backer Sketches!

If you backed at the "Original Sketch" tier, keep an eye on your mailbox (yes, that thing that exists in the real world). Sketches are heading your way! We will email each Sketch Backer individually, and will provide a tracking number for you. They're coming in sturdy do-not-bend envelopes to ensure they're well protected.

Each sketch request was created personally by Shantae series director Matt Bozon for that specific Backer! In cases where the request was… shall we say… "out of bounds", he improvised. But, we're pretty sure you'll love what he came up with! Some are marker drawings, others are in pencil, and all are signed. We hope you'll treasure your original sketch!
Leave a Reply