When Ski Lifts Go Wrong, Unruly Heroes out on Switch today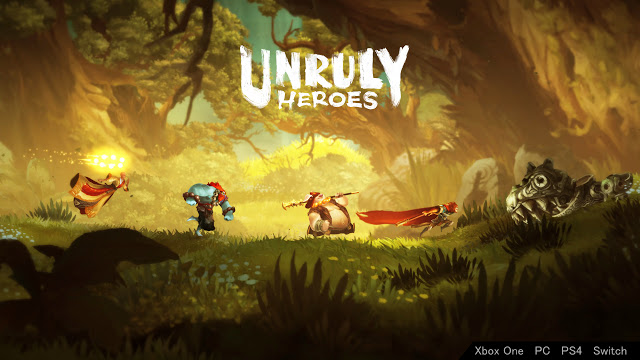 GOAT Simulator isn't the only title getting a surprise release on Switch today. The latest Indie Highlights video also confirms that When Ski Lifts Go Wrong and Unruly Heroes are now available.
Below are overviews for both games:
When Ski Lifts Go Wrong
It's time to get carried away with the deliriously fun bloody physics-based construction puzzler packed full of creative challenges, sports and bloody disasters!

In When Ski Lifts Go Wrong, you start in the rolling foothills and journey up to the jagged and exposed peaks. Puzzle over carefully designed scenarios to help every passenger reach their destination.

OVER 100 CHALLENGING LEVELS

Construct various facilities and infrastructures such as chairlifts, gondolas, jumps, bridges and ramps to guide the riders across over 100 hazardous levels. Build increasingly impressive structures as you progress through the varied campaign using your materials wisely. Cutting corners will save money, but it may compromise passenger safety with hilarious bloody consequences!

ORIGINAL PHYSICS PUZZLES

Jump into the fabulous role of a mountain resort engineer and master the ropes physics; learn the stresses and strains that will impact all the different types of structures that you'll build. Change between Build Mode and Simulation Mode whenever you want.

EXTREME SPORTS

After the construction – enjoy some sports! From Winter to Summer activity, try snowboarding, skiing, motorbiking, peddling and more…Take control of your rider and feel the mountain air to give them an extra nudge towards their destination and claim that coveted Number One leaderboard spot.

TOP OF THE ROPES

Keep an eye on your budget and tick off all the bonus objectives to be at the top of the online leaderboards. Grab all the trophies and enjoy puzzles from simple green to extreme black difficulty.

SANDBOX BUILDER MODE

Once you've mastered the slopes of When Ski Lifts Go Wrong, create your own in the easy-to-use level builder where your only limit is your imagination.

SOCIAL SHARING

Share your proudest or most disastrous replays, figures and creations with the community via the Nintendo Switch™ Capture button.
Unruly Heroes
The sacred scroll preserving harmony in our world has been torn up and scattered to the winds. Now, strange and terrifying creatures are sowing discord and chaos throughout the land.

Inspired by the famous Chinese novel "Journey to the West," Unruly Heroes tells the adventure of four totally opposed, implausible heroes who must collect all the scroll fragments and travel to fantastical worlds to restore balance… or die trying!

Set in lush, lively environments, the game is a playful version of the tale, and features a mix of jumping, climbing, unexpected challenges, and intense combat as you face a horde of enemies and memorable boss characters.

During this odyssey, the gang has no choice but to join forces and finally understand what it takes to be a hero.

Key Features:

– Experience the legend of the Monkey King, solo or cooperatively with up to four players in local play.

– Master the combined strength of four different heroes by learning to use the best one for each new encounter and challenge.

– Test your reflexes against an assortment of challenging enemies and intimidating bosses.

– Possess your enemies to harness their strength and abilities.

– Explore different worlds spanning a colorful fantasy universe, solving puzzles and overcoming unexpected obstacles.

– Immerse yourself in spectacular art, animation, and sound.

– Fight against your friends in local or online PVP.
When Ski Lifts Go Wrong and Unruly Heroes can both be found on the Switch eShop. Pricing is set at $14.99 and $19.99 respectively.
Source: Nintendo PR
Leave a Reply