Zelda: Tri Force Heroes has a special costume that can only be obtained through local multiplayer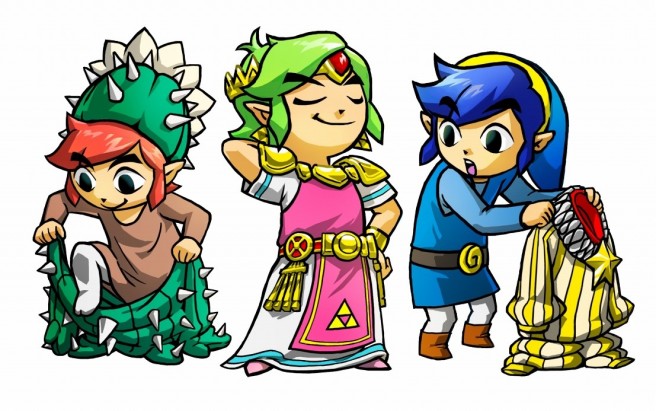 The Legend of Zelda: Tri Force Heroes features over 30 costumes that can be accessed through normal play. But there's one that is only obtained by teaming up with friends locally.
When playing local multiplayer (including Download Play), you'll receive an item called the "proof of friendship". You'll get one "proof" per friend's system. A currently unspecified amount is needed in order to obtain the special costume.
Speaking with Japanese website 4Gamer, Zelda series producer Eiji Aonuma and Tri Force Heroes director Hiromasa Shikata explained that the team thought they should make a reward for those people for play locally. Head past the break for our translation of the interview excerpt.
4Gamer: I'll change the subject a bit, but please tell me about a matter that is on my mind. You need items called "proof of friendship" in creating a special costume, but can you get those in single player?

Shikata: You get them only if you play together with other people locally or with Download Play.

Aonuma: Generally speaking, you'd want to play the multiplayer. This time everyone can play with just one copy of the game via Download Play as long as you have three systems. Playing noisily with other people is the greatest flavor of this Zelda and you'd want to experience it. I think it can be hard to gather people if you're an adult, but I'd like people to try to come and play together in order to collect proofs of friendship.

4Gamer: To confirm: you don't get proof of friendship when playing online?

Shikata: That's true. You don't get them when playing online.

4Gamer: It seems like it is good to have a reward for people who gather together and experience the local play.

Aonuma: Yes. Be sure to invite friends and play together.
Leave a Reply