Aonuma – Breath of the Wild is after Ocarina of Time, Zelda's emotions, using idea from over 20 years ago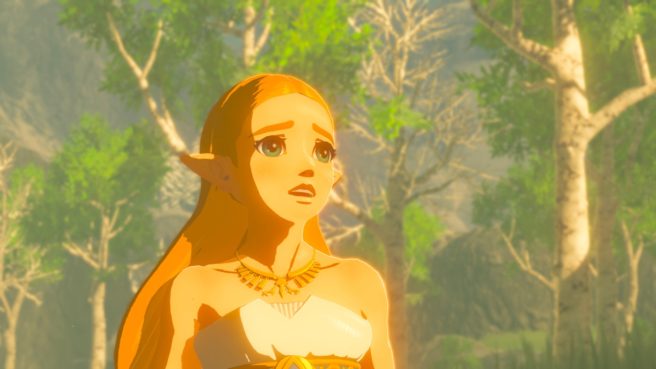 Game Informer has a big article on Zelda: Breath of the Wild this month. Sprinkled throughout are comments from Eiji Aonuma, producer of the series.
While it may have been expected based on what we've seen so far (such as the decayed Temple of Time which pretty much gave it away), Aonuma officially confirms that Breath of the Wild takes place after Ocarina of Time. He also spoke about how Nintendo is approaching the story in general:
"Because we wanted to redefine the whole process, I didn't want to be chained up by the idea that we had to think about the past titles. But then again, I know there are a lot of fans who are interested, and who are knowledgeable in the Zelda franchise and the history. So by adding little elements here and there, we wanted to give the fans the opportunity to say, 'Oh, I saw this. Maybe this is how it expands the story,' or give little hints here and there."
As for Zelda specifically, Aonuma says that she'll have a wide range of emotions. In fact, she can get mad at you and even scold you.
According to Aonuma:
"I don't want to get too deep into it, but I do want you to know that Zelda does have a lot of emotions and expressions, and for the trailer we chose one that was very extreme. Once you start playing Breath of the Wild, I want you to explore and see these different sides of Zelda, different emotions that she evokes."
Game Informer did ask if Zelda will scold every player. However, Aonuma wouldn't guarantee it, since players will take different paths and may miss out on certain things if they complete their adventure too quickly.
"Especially if they are heading toward the goal a little too quickly, then maybe they may miss these things – like Zelda getting mad at you. But if you walk around in the world and if you encounter different environments and elements, then these are things you will probably experience."
Finally, Aonuma shared a cryptic tease as to how Nintendo is creating a cohesive storyline in Breath of the Wild. He was able to implement something here that he's been thinking about for over twenty years.
He said:
"In order to create more of a cohesive storyline, we added this element in there that will make it a bit more streamlined for every player. This is something I can't reveal right now, but when you play you will find out. This idea that I am talking about is actually something I came up with when I first started developing the games. I have been harvesting this idea for 20-plus years."
You can pick up this month's issue of Game Informer for more on Breath on the Wild, including a bunch of direct comments from Aonuma not shared here on the site.
Leave a Reply