Dragon Quest Monsters: Joker 3 demo hits the Japanese 3DS eShop on March 9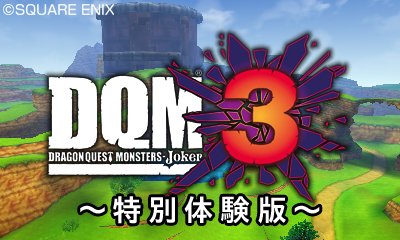 Square Enix has been teasing Dragon Quest Monsters: Joker 3's demo for awhile now. Today, the company finally announced that the download is due out on March 9 at 10 AM Japan time via the eShop.
Those who download the demo can try out the series' "Monster Scout" system, along with new elements such as the "Ride System," and monster and field object analysis using the new "Reactor" tool. Clearing it will award players with a "present code" that can be used in the full game.
Also, as a reminder, downloading the 3DS tool Dragon Quest X: Boukensha no Odekake Chou Benri Tool will allow users to obtain the "Reactor" tool in Dragon Quest X.
Leave a Reply