Japan: Super Bomberman R had the series' best opening week in almost 20 years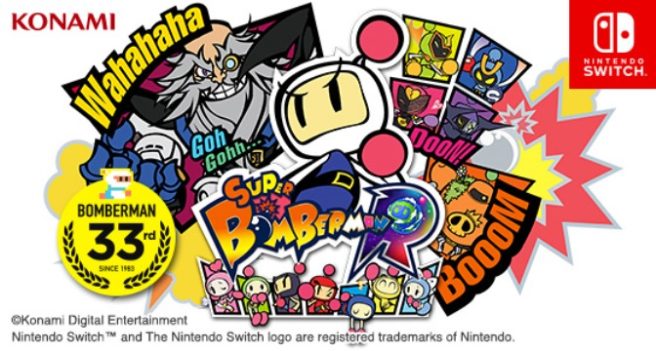 Super Bomberman R didn't set the sales charts on fire when it debuted in Japan last week, but it still managed to do fairly well. Even though it only sold around 37,000 copies, it was the best-selling third-party game on Switch.
Looking into Super Bomberman R's sales further reveals an interesting fact. It actually had the best opening week for the series in nearly twenty years. It's also one of the best openings for the series as a whole.
Here's a look at previous first week sales for Bomberman games in Japan:
[SWI] SUPER BOMBERMAN R – 39.609 / 2017
[NDS] CUSTOM BATTLER BOMBERMAN – 1.600 / 2008
[WII] BOMBERMAN BLAST – 3.600 / 2008
[NDS] TOUCH! BOMBERMAN LAND 2 – 3.038 / 2007
[NDS] BOMBERMAN STORY DS – 4.359 / 2007
[PSP] BOMBERMAN LAND PORTABLE – 1.648 / 2007
[WII] BOMBERMAN LAND WII – 6.241 / 2007
[360] BOMBERMAN ACT: ZERO – 2.035 / 2006
[NDS] TOUCH! BOMBERMAN LAND – 9.044 / 2006
[PSP] BOMBERMAN PORTABLE – 3.712 / 2006
[PS2] BOMBERMAN LAND 3 – 6.284 / 2005
[NDS] BOMBERMAN – 7.351 / 2005
[PS2] BOMBERMAN LAND 2 – 14.968 / 2003
[GBA] BOMBERMAN JETTERS – 3.608 / 2002
[NGC] BOMBERMAN GENERATION – 10.829 / 2002
[GBA] BOMBERMAN STORY – 18.072 / 2001
[PS1] BOMBERMAN LAND – 32.595 / 2000
[N64] BOMBERMAN 64: THE SECOND ATTACK! – 12.257 / 1999
[GB] BOMBERMAN QUEST – 15.325 / 1998
[PS1] BOMBERMAN: PARTY EDITION – 34.945 / 1998
[N64] BOMBERMAN HERO – 14.666 / 1998
[PS1] BOMBERMAN WARS – 6.929 / 1998
[PS1] BOMBERMAN WORLD – 76.801 / 1998
Leave a Reply