Monster Hunter Stories gets first review in Famitsu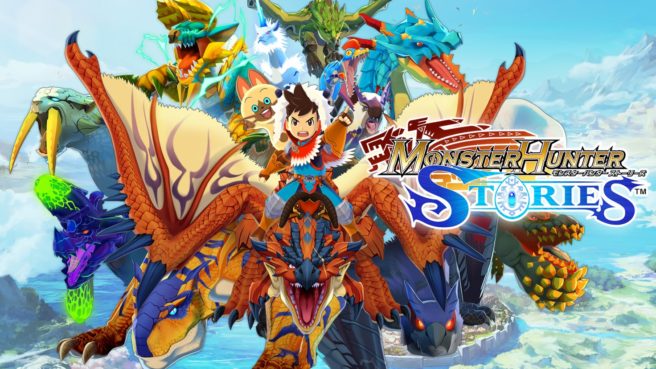 Ahead of its Japanese debut this weekend, Famitsu reviewed Capcom's new 3DS game Monster Hunter Stories. It was rated highly, as four editors dished out scores of "9", "9", "8", and "9". That amounts to a total of 35 out of 40.
We've translated the full text of Famitsu's Monster Hunter Stories review. To read it, head past the break.
Reviewer 1 – 9

It is a good thing that the role of the main character isn't a monster hunter but rather a "rider" who breeds monsters and lives with them. The progression of getting eggs from nests, adventuring together in the charming world of Monster Hunter, and deepening the bond with monsters is fun. The battle action which overflows with energy and charming Nabiru are also nice. Even though it isn't exactly lengthy, I was a bit bothered by the loading time when moving into an area or entering a battle.

Reviewer 2 – 9

It's exciting to be able to adventure together with recognizable monsters and the simple story is easy to like. It is nice that even people who aren't good in action gameplay can experience the world of Monster Hunter. The battle system of Monster Hunter, in which you observe the movements of monsters and act according to your predictions, has been applied in an easily understandable form. Transferring link genes to awaken new powers and the element of strengthening monsters is also good.

Reviewer 3 – 8

It is wonderful how the world of Monster Hunter has been created as a solid RPG. Especially battles are easily approachable with selecting from three attack types, but there is still depth of reading habits of monsters and the real thrill of hunting is present from Monster Hunter. There is also good emphasis in things like using a double attack together with a monster. The nests on the field differ each time, so collecting eggs is always exciting. Loading times before a battle and when changing areas are somewhat long.

Reviewer 4 – 9

The true charm of Monster Hunter has sublimated into an RPG as it was, with things like suppressing monsters due to quest requests and collecting materials. Three-choice command battles are simple, but a "bond move" can turn the situation around in a blow and it works well as a highlight, and battles are worth playing. Much effort has also been put into creating the world, and things like voices and costumes of the characters that color the story are excellent. On the whole, the structure that allows stress-free playing is good. The "ride action" that capitalizes on characteristics of monsters is also worth replaying.
---
Thanks for making it to the end of this post! If you use any of this translation, please be sure to properly source Nintendo Everything. Do not copy its full contents.
Leave a Reply