New Monster Hunter Stories details and screenshots – felynes, Otomon, areas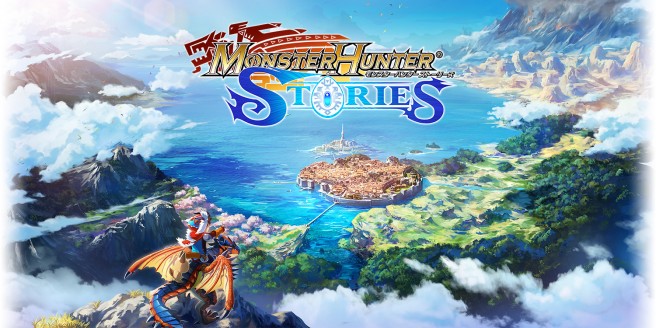 This week's issue of Famitsu has another sizable update on Monster Hunter Stories. The magazine's latest coverage provides new information on felyne characters, Otomon (including a new system), and new areas.
Just like last time, the official Monster Hunter Stories website has been updated as well. Screenshots from the updated pages are below.
Five original felynes are shown in Famitsu. Unlike the normal felynes in Girudekaran, they are unique just like Navirou. However, there is a reason for their unique appearances, which is not yet known.
None of the felynes are named thus far. But from the left they are:
– Blue – An intellect with a hot heart and cool breath
– Green – Has extraordinary sights
– Red – The leader who's hot-blooded, manly and cares for his friends
– Pink – Pert fellow and does things on his own pace
– Yellow – Can make her body flash at her own will
Otomon that aren't included in the party are left in the stables. However, such creatures can be inserted into an Otomon Expedition Team that can be sent to fields to obtain materials and rack up experience. Each field will have different kinds of materials. More fields will be unlocked as the player progresses through the story. The player can also set the tendency of the team to focus on either experience or items.
Newly-confirmed Otomon in Monter Hunter Stories are as follows:
Gravios
– Ride Action: Move through Magma
– Bond Technique: Magmarizer – Engulfs self in scorching magma, then breathes a heatwave that burns any enemies it sees
Uragaan
– Ride Action: Move through Magma
– Bond Technique: Rolling Shoot – Rolls on the ground and dives towards the enemy. Finish with a strong jaw attack
Gypceros
– Ride Action: Charge Forward
– Bond Technique: Venom Flash – Blinds enemies with a flash, after that spits countless amount of poison
Iodrome
– Ride Action: Jump
– Bond Technique: Poison Rush – Jumps high and assaults enemy from above. Does a rush attack with poison fangs
The last portion of Famitsu's coverage highlights new areas in the game.
Fullcrite Geo is an active city located in a volcanic region. The city is developed by raw metals from mines, so miners and artisans gather and make a living in this city. It's also located next to the sea, so there are ships that regularly transport metal from the harbor.
Dovan Volcano is a hot, scorching volcano that's located past Kuba Desert. Monsters that live in volcanic regions like Gravios and Iodrome live here.
Dovan Mine was established as a base for mining in Dovan Volcano which has abundant metal resources. People can move within the mines by using a tram.
Finally, we learn about the Abandoned Mine Road. This is a mine road that used to connect Fullcrite Geo to Dovan Mine, but a landslide occurred and blocked the road. It can be entered by using Otomon powers, and may have something inside.
Leave a Reply