Rumble and LEDs may have been planned for the Pokken Tournament controller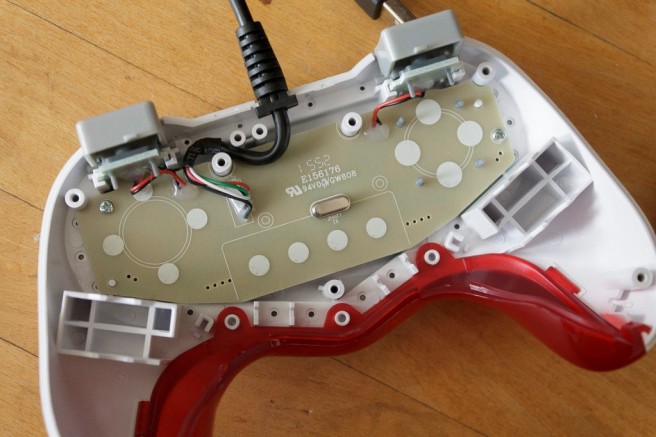 At one point, there may have been plans to include some extra features in the Pokken Tournament Pro Pad. Austin Mageles has been picking the controller apart and came across a couple of interesting discoveries.
First, it seems that there are two areas where two force feedback motors would have been included, which is further hinted at with "LM" and "RM" prints on the circuit board. This would designate "Left Motor" and "Right Motor" – both would likely be used for rumble support. Also found within the transparent red plastic on the bottom of the controller are "dimples" for LED lights.
Here's a roundup of Mageles' photos:
@Alex_Olney It looks like the Pokken Pro pad may have had rumble support! Might be useful info for an addendum pic.twitter.com/sRNpLRWWt9

— Austin Mageles (@amageles) March 20, 2016
@Alex_Olney I got curious since there wasn't much to the PCB, so I unscrewed the board and found more evidence pic.twitter.com/QIob7nCdh3

— Austin Mageles (@amageles) March 20, 2016
@Alex_Olney and would you believe it, I found the contacts for "LM," which I would assume stands for "Left Motor." pic.twitter.com/mqr2VTt6lF

— Austin Mageles (@amageles) March 20, 2016
@Alex_Olney As you would expect, upon lifting the button contacts on the right, there is a "Motor Right" printed pic.twitter.com/wCGsH6YHA7

— Austin Mageles (@amageles) March 20, 2016
@Alex_Olney Here you can see the 4 dimples (red), specific molding (yellow), and the PCB inputs (blue). pic.twitter.com/GCMDouPICf

— Austin Mageles (@amageles) March 20, 2016
Leave a Reply