Shin Megami Tensei X Fire Emblem producer talks about the game, shares some insight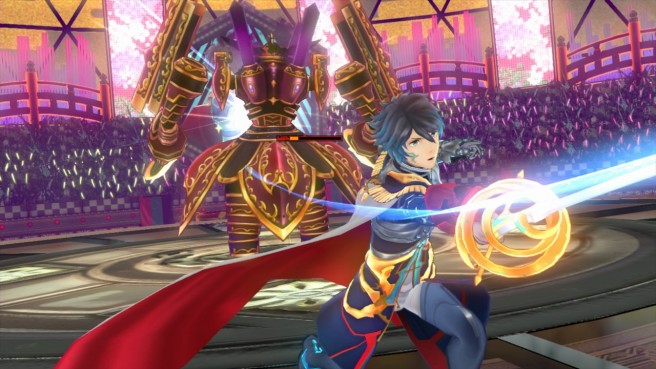 Shinjiro Takada, producer of Shin Megami Tensei X Fire Emblem (or Illusory Revelations#FE… or whatever you'd like to call it!), recently posted a message about the game in light of today's Nintendo Direct reveal.
In his note, Takada apologized for the long wait in showing the project. He also talks about how it was difficult for Atlus to incorporate the Fire Emblem aspect, but the team "worked carefully with Nintendo to ensure it'd work well and deliver the feeling you get from the series."
There's plenty of additional information in Takada's lengthy message. You can find it below.
ATLUS,CO.,LTD.
Illusory Revelations ? Fire Emblem – Producer
Shinjiro Takada

Greetings!

It's nice to meet all of you, or shall I say, see all of you again. This is Shinjiro Takada from ATLUS. Usually, I am responsible for working on the Devil Survivor* series, but this time, I was tasked with working on the production for the upcoming crossover title "Illusory Revelations ? Fire Emblem*"

After over two long years of keeping you waiting, we felt it was finally time to showcase this game. Did you have a look at the new PV*?

This is the result of our collaboration work on the "Fire Emblem" series. I think many people will find it quite different than they had originally expected. Originally, it was very challenging for us to get the "Fire Emblem" aspect into the game, but we worked carefully with Nintendo to ensure it'd work well and deliver the feeling you get from the series.
But, "as long as development of this title conforms with what Intelligent Systems originally would have wanted, and ATLUS develops it and triumphs through it, then ATLUS' work is good."

It was following that that we were able to come to our conclusion and settle on the concept for this project. As a result of this, "Illusory Revelations ? Fire Emblem" follows the basic axis of what I would say are "Realistic characters who suffer from many conflicts and worries in modern-day Japan" in this RPG. It was capturing the feeling of "Fire Emblem" that was the real challenge during the development of this concept, as this is a collaboration.

In this PV, many people may find it hard to understand where the essence of "Fire Emblem" comes into play. However, this will be explained more in the future, so please wait for a follow-up to this.

The character designs that would become the face of this project were designed by toi8*, who we had requested to assist us. Even though "Illusory Revelations ? Fire Emblem" follows its own world and has a touch of fresh colors and poppy visuals, we wanted to make it easy to get into the world of this game, while still making it look refined and familiar for those who are fans of the series.

Although only four characters appear in the spotlight of this PV, there are more characters (some of which make a quick appearance in the PV) prepared for the future, so please stay tuned!

It should also be noted that "Illusory Revelations ? Fire Emblem" has given us the opportunity to work with other developers. This time, in the first edition of this creators' blog, you got to hear comments from me, the top batter of the project. But, we have interviews planned with other ATLUS staff and developers in the future, so we hope everyone will enjoy it!

While development has finally reached its climax, and we are celebrating that, there is still a ways to go. We are working hard on to bring this game to you with our staff. However, there is still some work to be done, so this game will be released this winter. We thank you for your patience, and hope to make a project with our team that everyone can enjoy!

*"Illusory Revelations ? Fire Emblem" is not the official localized title, and is a translation of the title by us.

*"PV" stands for "promo video" or "promotional video" and is usually what most trailers are called for Japanese games.

*"Devil Survivor" is a series that was originally released for the Nintendo DS in Japan and North America in 2009 with its first title "Megami Ibunroku: Devil Survivor". This game was localized under the title of "Shin Megami Tensei: Devil Survivor" in international regions, and has seen massive success, branching off into a sequel as well as an enhanced port of the first two games for the Nintendo 3DS.

*"toi8 (????)" is an artist who does character designs for different types of media.
Leave a Reply