Yoshi's Woolly World devs on the different Yoshi designs and Pokemon, lack of Baby Mario, more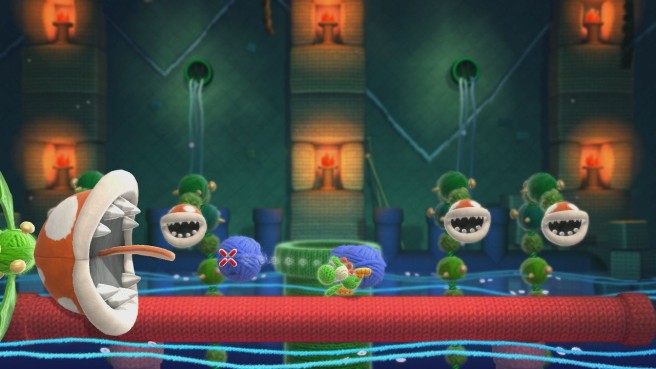 Game Informer has published a new interview with Yoshi's Woolly World designer Emi Watanabe and producer Takashi Tezuka. During the discussion, the two touched on the different Yoshi designs (and how the Pokemon amiibo unlock a generic skin), the lack of Baby Mario in the game, and more.
Read on below for some excerpts from the interview. You can read the full Q&A here.
On the Yoshis with different designs…
Watanabe: We actually started with just the standard, green Yoshi that is the main playable character, and as we developed the game and came up with all these gorgeous backgrounds, we decided that maybe we could play around a bit with Yoshi himself too. With knitted scarfs and sweaters and things like that, you can have a bunch of different colors mixed in there. We played a bit around with him and made a bunch of unique designs and when we asked around for feedback, people were really divided on what they liked and had their ideas of what we should make. So we decided to throw them all in and put in a bunch of different kinds of designs.
Tezuka: And for me, just changing Yoshi's designs, like the pattern, it was really fun and it made me really happy. At first, we also considered having abilities to go with some of these patterns, but I found that just the aesthetic itself was so fun and pleasurable. So rather than limiting the number of designs based on different abilities we could think of, we decided to focus on kind of the visual aspect and the joy that the colors and things brought.
On how some amiibo characters such as Pokemon give you a Yoshi with a white t-shirt that says "amiibo"…
Tezuka: With the Amiibo designs, we had to think about what characters could be represented authentically to the character in the Yoshi form, and so we couldn't do every single Amiibo. We did some trial and error and, unfortunately, we didn't make these ones and have Yoshi wearing an Amiibo t-shirt.
On the appeal of yarn with game design…
Tezuka: It's funny that you mention that connection with those games with yarn. We hadn't really thought about it that way because with the Yoshi series, you might have noticed that each one has its own hand-made feel. Yes, we did know about Kirby's Epic Yarn, and we loved that aesthetic and we decided to work with that developer to create Yoshi's Woolly World. But it came from a place of wanting to have fun with Yoshi's form with yarn rather than any sort of trend that may be emerging. We just liked the aesthetic for this game.
Watanabe: Personally, I think the appeal of yarn is that everyone has interacted with it and touched it before. They can imagine what it would be like to unravel something, and so it's kind of that tactile feeling that we can imagine while we're playing the game, which I think might be universally appealing to people. It's something that I enjoy myself, anyway.
On the thought process of choosing which Nintendo character gets a yarn game…
Tezuka: With Yoshi's Woolly World, I think we really pushed the expression of yarn to its limit, so as far as more yarn games go, we really want to try to play with something else – and that's for Yoshi games or other Nintendo characters.
On the next aesthetic they would like to try…
Tezuka: You probably saw this coming, but I can't tell you just yet.
On whether Baby Mario was ever considered…
Tezuka: The concept of Yoshi's Woolly World was that we wanted to do a yarn take on the series, so we didn't have plans for Baby Mario from the start.
On how they determine when Yoshi makes the comeback in a support role rather than a main character role…
Tezuka: Regarding Yoshi appearing in other games, we know Yoshi's a beloved character and we know that fans want to see him as much as possible, but we really want to consider the game and gameplay that makes sense for having Yoshi as a character. It's really case by case and whether the mechanic adds something to the experience. That's kind of what we have on the forefront of our minds in making that decision.
Leave a Reply