Zelda: Breath of the Wild devs scrapped idea of stabbing and resting on weapons following Miyamoto feedback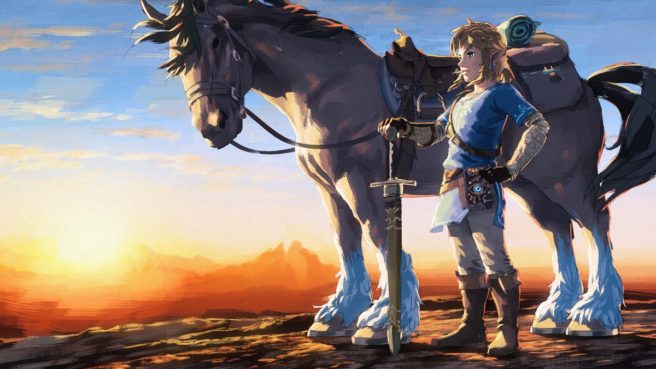 Not every idea made it into The Legend of Zelda: Breath of the Wild. For instance, Nintendo considered including tiny people as well as the Hookshot and Beetle items.
Art director Satoru Takizawa and director Hidemaro Fujibayashi revealed another cut idea while speaking with GameSpot. At one point, players would be able to stab their weapon into a wall. Doing so would let Link recover stamina.
Midway through development, the team decided against including the mechanic. This was in large part due to feedback from Shigeru Miyamoto, who essentially vetoed the idea due to it being illogical. The developers thought about stabbing weapons into cracks or crevices, though that wouldn't work either since you'd be limited in where it could be done.
Takizawa and Fujibayashi said:
"Until about halfway through the development, we had a spec where you could take your weapon and stab it into a wall. When your stamina gauge was dwindling you could stab the weapon and kind of hang out and rest there." – Takizawa

"So the answer is that Mr. Miyamoto heard of the concept he said, 'You can't stand on the tip of a sword. This is strange.' And then we explained, 'No no no, you stab it in.' Then he's like, 'No, it's not going to work.' Another idea is that it's very hard to actually stab a sword into a big piece of rock. We considered that you can stab them into cracks or crevices in the wall, but then you can't freely use that feature anywhere you want, so I decided not to implement it."
As for Miyamoto's general involvement during development, Fujibayashi said:
"So starting from the early stages of development we had been constantly showing Mr. Miyamoto our progress. At times we would even show him once a week what we'd been working on, because if we don't do that, and then go face-to-face and present the idea, tables might be flipped!'"
Thanks to Bobo for the tip.
Leave a Reply