Zelda: Breath of the Wild – messages from Eiji Aonuma and Hidemaro Fujibayashi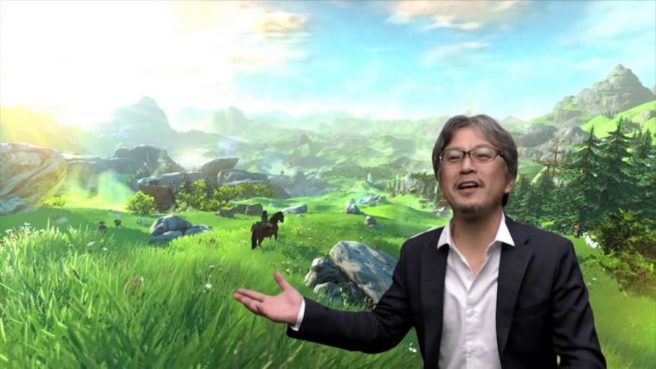 In the official Zelda: Breath of the Wild guide, two of the game's most important developers left messages for readers. Series producer Eiji Aonuma and director Hidemaro Fujibayashi both reflected on creating the massive title.
Aonuma's message was particularly interesting. In it, he spoke about the developing process of "creating while playing". Aonuma also touched on not being completely satisfied with development due to "a desire to keep evolving and growing."
As for Fujibayashi, he touched on the difficulties of trying to rethink Zelda's conventions. He also said that the team has "on occasion observed things happen in the field that not even we, who created the game, could have imagined."
We thought it might be interesting to share both of these messages from Aonuma and Fujibayashi. Read the full transcriptions below.
Aonuma
In re-examining the convention that Zelda games are played on a set path, we decided to implement a groundbreaking new play style that would allow players to go wherever and do whatever they want. This has been achieved for the first time in the history of the series in its newest edition, Breath of the Wild. In order to attain this goal, we spent most of the production time creating the game as we played it.

The process of "creating while playing" went like this: first, we placed a countless number of "points" throughout the vast world of Breath of the Wild. Then, as we went through and actually played the game, we would make those "points" larger, smaller, or move them around, incorporating the things that we felt, while playing deeper into the game itself. In truth, this production style is very similar to the method Miyamoto used in the very first The legend of Zelda. Nonetheless, as games became 3D and people wanted more realism from game worlds, it became necessary to have a concrete "blueprint" of our game world from the very start of development. In essence, what became known as the quintessential Zelda experience, following a path set by the developers from start to finish, ended up being a product of the demands placed on the developers by that blueprint.

However, since this approach of creating a game while actually playing it means that the game continues to grow and evolve over time, it makes it very difficult to decide where to place the ending. Even now, after development has finished, I still get the feeling that there are so many things left that we didn't get a chance to achieve.
Although this feeling isn't new to this particular work, for past games, it was more a feeling of disappointment.
For this game, in contrast, it's more of a desire to keep evolving and growing. I feel like that's a big difference between this Zelda game and previous versions.

I'm not sure what lies before us, but I'm positive that this feeling of wanting to keep on growing and changing will be a driving force for future Zelda games. I hope that you'll keep your eye out for whatever comes next in Zelda.
Fujibayashi
The Legend of Zelda: Breath of the Wild is a project that we started in an effort to completely re-imagine the conventions of The Legend of Zelda to commemorate the 25th anniversary of the series. I tried to imagine what that would look like: a new Legend of Zelda, utilizing new technology, new hardware, and new ways of playing that we had never done before. I contemplated this for a long time, and my staff and I spent day after day trying to come up with an answer, but for what seemed like an age, we couldn't find one.

When we went back to the essence of what it was that originally made The Legend of Zelda so much fun, we realized the answer was in the very first Zelda game: venturing through wide open fields, using your imagination and trying out different approaches in order to overcome problems… Was this the answer? Was this the essence of The Legend of Zelda? What if we tried making a game where there was a response to every single one of the player's actions? What would we need in order to make that happen? After we started asking ourselves these questions, we came up with a vast variety of playstyles that served as the basis for everything that was implemented in the finished version of The Legend of Zelda: Breath of the Wild.

Most of the natural phenomena that occur in the world of Breath of the Wild are based on physics, and they affect all forms of life that appear in the game. In addition, depending on the choices and actions of the player or the effects from the items that they use, there are various kinds of reactions that can occur. Due to the mass of possible combinations, we have on occasion observed things happen in the field that not even we, who created the game, could have imagined. For this reason, there is no one way to beat this game. In The Legend of Zelda: Breath of the Wild, the number of ways that you can tackle and solve any problem is limited only by your imagination.

Unique characters, powerful enemies, and challenging puzzles that can only be found in the world of The Legend of Zelda are waiting for you. This time, our hero Link uses an item called the Sheikah Slate to aid him in his adventures, but with this strategy guide by your side, I hope that you too will be able to venture forth with confidence into the vast world of Hyrule and experience your own adventure to the fullest.
Leave a Reply