Zero Time Dilemma – name, resolving mysteries, extreme scenes, character designer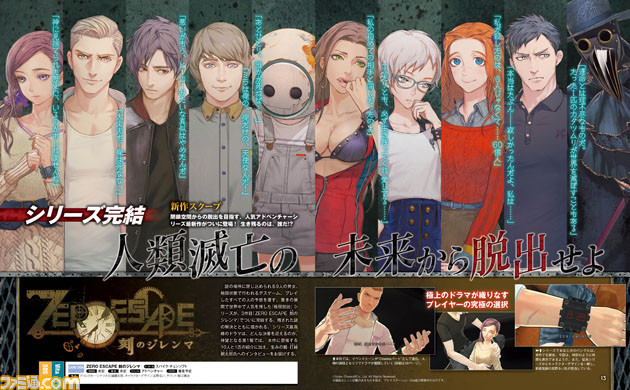 As reported earlier today, Zero Time Dilemma has a big feature in this week's Famitsu. There are details about the game itself as well as an interview with director Kotaro Uchikoshi.
Some excerpts from the interview has now leaked out of Famitsu. Head past the break to see what Uchikoshi said about the name, resolving mysteries, extreme scenes (possibly 3DS' first CERO-Z-rated game in Japan), and changing character designers.
Famitsu: Why did you remove "Kyokugen Dasshutsu" (Extreme Escape) from the title?

Uchikoshi: We want to renew the image [of the game series], so we used the foreign localization name Zero Escape instead.

Famitsu: What's the meaning of the subtitle (Time Dilemma in Japan)?

Uchikoshi: The contents of this game will give a question to the players: What would be the right thing? In the game, there will be the 'ultimate selection' where neither of the choices are totally correct. Each selection has in-game features of changing the storyline and ending, but we'd like players to think about which one is the right one to them, which ones are good and evil, so we put Dilemma in the subtitle.

Famitsu: Since it's [marked as] a conclusion, does that mean all mysteries will be resolved?

Uchikoshi: All mysteries from the past game will be resolved. We're also making it fun to people who play the series for the first time.

Famitsu: I heard there are extreme scenes here…?

Uchikoshi: In the ultimate selections, some choices may put someone's life at risk. We want the player to worry about it deeply. This time we didn't want to soften the presentation to satisfy age ratings, so we'd like to present them the way we want it. So there's a high probability this might end up becoming 3DS' first ever CERO-Z-rated game (wry laugh). [note: Z-rated is Japan's adults-only equivalent rating; strictly only for sale to people 18 and over]

Famitsu: Why did you change the character designer?

Uchikoshi: We considered asking for Kinu Nishimura again, but we wanted to make a drastically different impression from the prequel. Furthermore, we wanted to make the design more impressive by changing the graphical direction from background and still images to 3D cinematic. This time we asked Rui Tomono, because while still keeping the Japanese touch, foreign players shouldn't have much resistance in accepting [the new artist's designs], in our opinion.
Leave a Reply