90's Arcade Racer transitions from Wii U to Switch under the name '90s Super GP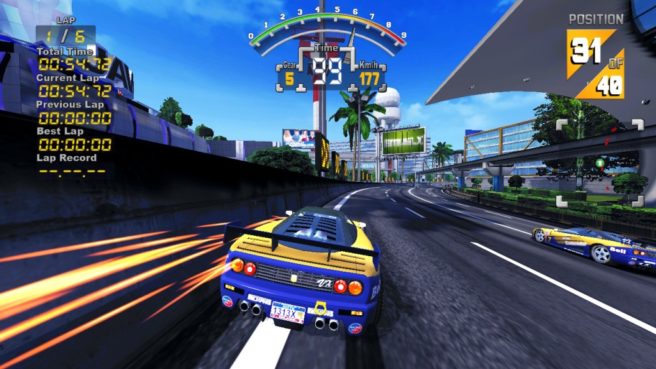 First announced for the system in 2013, 90's Arcade Racer was supposed to eventually end up on Wii U with Nicalis as the game's publisher. After several years though, nothing materialized, and it has been difficult to obtain an update about the situation.
That brings us to Switch. Wii U is off the table at this point, but Nicalis appears to be bringing 90's Arcade Racer to Nintendo's new console instead under the name '90s Super GP. The project is listed on the company's revamped website.
'90s Super GP is still without a release date. But since it has a new name and is coming to a new console, hopefully it's not too far off.
An overview of '90s Super GP is posted below.
The Key to Racing Lies in the Past: DECIDED LIKE THIS!

It is the nineties, and there is time for arcade racing! '90s Super GP is soaked in the nostalgia of the greatest era of racing video games, when "realism" and tedious minutiae took a back seat to fantastic environments, hyperspeed drifting and paint-scraping!

Offering three different racing classes and a variety of exciting gameplay modes, '90s Super GP skillfully combines the feel and aesthetic of classic arcade racers with the polish, physics modeling and widescreen HD visuals of current-generation games.

FEATURES

Intense stock car, supercar and formula racing in the style of the best arcade racers of the 1990s
Bright colors, crazy track layouts and dance music evoke the golden era of arcade racing games
Finely tuned driving physics with precision handling and old-school drifting
12 unique vehicles with different attributes and customizable colors
Six dynamic and shortcut-filled courses, three of which have "Long" and "Short" variations
Arcade mode for quick races in any unlocked vehicle on any unlocked course
Championship mode with four circuits in each of the stock, supercar and formula racing classes
Local and online multiplayer modes, online leaderboards

Details

Platform: Nintendo Switch, PC, PS4
Release Date: TBA
Players: 1 to 2
Leave a Reply