Amazon UK has a Pokemon Legends: Arceus pre-order bonus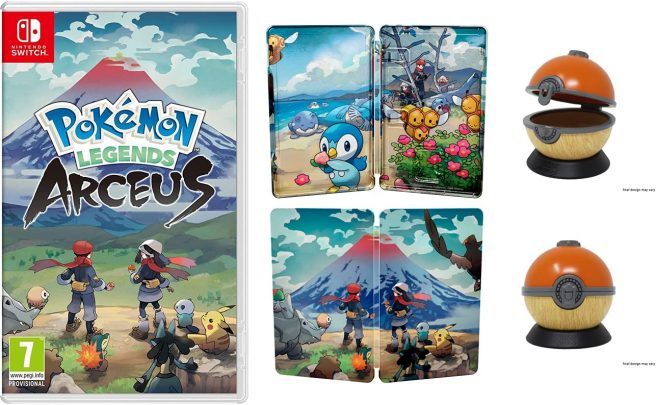 Another pre-order bonus for Pokemon Legends: Arceus has been revealed, this time coming from Amazon UK. The retailer is actually providing a couple of gifts. In addition to a steelbook, all buyers will receive a ball cartridge. Both items can be seen above.
Outside of Amazon, the UK My Nintendo Store is also looking to entice fans with a Pokemon Legends: Arceus pre-order bonus. Fans will be provided with the steelbook plus a figurine of Arceus, one of the stars of the Switch game.
Here's a brief overview of Pokemon Legends: Arceus with a bit of additional information about the game:
Get ready for a new kind of grand, Pokémon adventure in Pokemon Legends: Arceus, a brand-new game from Game Freak that blends action and exploration with the RPG roots of the Pokemon series. Embark on survey missions in the ancient Hisui region. Explore natural expanses to catch wild Pokémon by learning their behavior, sneaking up, and throwing a well-aimed Poké Ball. You can also toss the Poke Ball containing your ally Pokémon near a wild Pokémon to seamlessly enter battle.
Pokemon Legends: Arceus is slated for January 28, 2022 on Switch. For those interested in pre-ordering from Amazon UK, the game can be reserved here.
Leave a Reply