Atelier Ryza: Free update & DLC trailer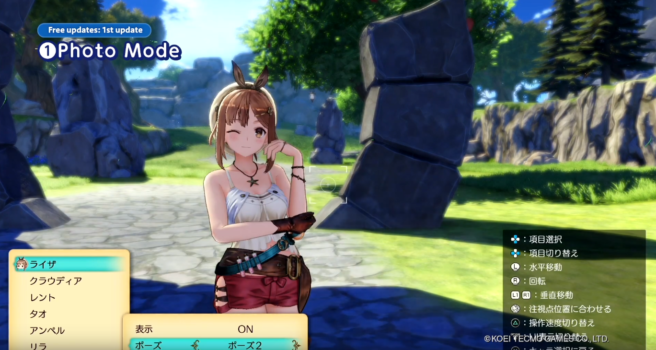 Atelier Ryza: Ever Darkness and the Secret Hideout received both a free update and some paid DLC today. Koei Tecmo published a trailer today which gives an overview of both:
Head past the break for a full breakdown of what's included in both the free update and the DLC:
Update 1.0.1:
– Additional function update ("Photo Mode", "Weasel Roast", "Puni Companion")
– Fixed bugs that occurred under certain circumstances in battles and quests
– Expansion update ("Advanced Exploration Patch", " Highest Difficulty Patch")
– Fixed a bug that prevented progress when selecting Chinese (traditional) or Chinese (simplified) in the language settings of Nintendo Switch™ after applying Update 1.02
– Support for additional content
– Fixed a bug that causes the game to freeze when moving the map to the Secret Hideout or Hidden Clearing
– Fixed a bug when extra skills may not be activated when an extra order is achieved during battle under certain conditions.
– Fixed several display issues
– Other minor adjustments and issues
Save your memories of Ryza's adventure through the new Photo Mode!
Find your favorite, spot, pose each character, change the time of day, select a frame, filter and more to create your own memorable photos.
Note: Can be used immediately after installing the free update.
Note: The characters to be placed in photos must be in your party at the time.
Note: There is no function to take screenshots in Photo Mode itself. Please use the PlayStation®4 or Nintendo Switch™ screen shot capture function.
Earn bonuses with high scores!
"Weasel Roast"
Test your skills against Weasel Roast! Create combos for higher damage and higher scores to receive bonus gems!
Note: It is unlocked after advancing the story to a point roughly after Empel joins your party.
Get items by raising puni!?
Raise a puni with "Puni Companion"
That's right – it will now be possible to raise your own puni!
Raise your puni by feeding it to increase its status and to change its appearance. As your puni grows, they may even go on their own adventure and bring back some items for you.
Note: It will be unlocked after the midway point of the story.
Challenge more powerful enemies to strengthen Ryza and friends!
Prepare for the challenging battles in the new "LEGEND" difficulty! Strengthen Ryza and friends to level 99, improve their skills, and strengthen their weapons!
Finally, there will be another free update at some point in late November which will raise the level cap for gathering location synthesis.
Leave a Reply