Atooi Collection resurfaces, collector's edition revealed, pre-orders open next week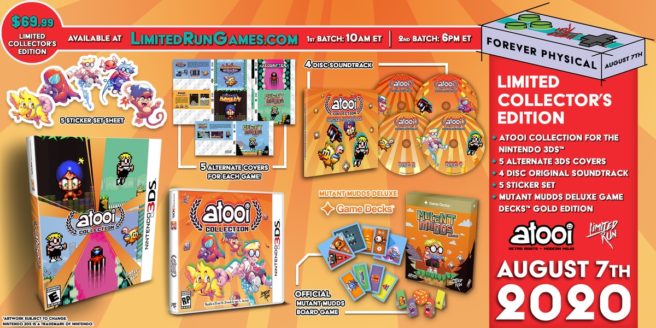 Atooi Collection was announced last June. It's a physical release featuring five games on one cartridge: Mutant Mudds, Mutant Mudds: Super Challenge, Bomb Monkey, Xeodrifter, and Chicken Wiggle. A year has gone by, but we finally have an update from distributor Limited Run Games.
Keeping in line with many releases from Limited Run Games, a collector's edition is planned. It will contain alternate covers, a 4-disc original soundtrack, sticker set, and a Mutant Mudds Deluxe Game Decks (Gold Edition) board game.
Pre-orders for Atooi Collection open with a standard version and collector's edition on August 7 at 7 AM PT / 10 AM ET. There'll be another reservation period at 3 PM PT / 6 PM ET.
Leave a Reply