Attack on Titan 2 Future Coordinates – Danganronpa collaboration screenshots and details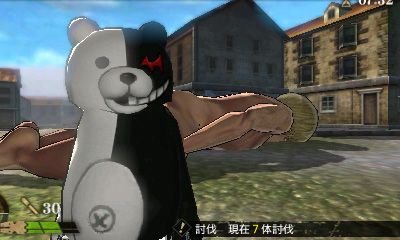 There's some new screenshots and details for the next 3DS installment of Attack on Titan. Firstly here is some details about the upcoming game as detailed by Gematsu.
– On Danganronpa collaboration
"In Attack on Titan 2: Future Coordinates, you can play an Extra Mission where giant "Titan Monokumas" attack. Monokumas will appear in various sizes, from three-meter to 60-meter classes, and are voiced by Tarako. If you clear the sequence of Monokuma missions, you can obtain a Monokuma costume that can be used by the player character."
– 40 characters from the series
"New characters from Season 2 of the Attack on Titan television anime, as well as characters from the Attack on Titan: No Regrets side story have been added. In World Mode, you can use the outer appearance parts (and voices) of all the characters that appear, including the new characters, in the player character editor."
– Base missions/birthday missions
"In World Mode, there are both "Sudden Base Missions," where you will protect your base from titans, and "Urgent Base Missions," which will occur after clearing the last standard mission of each chapter. By clearing these missions, you can obtain things such as blueprints for new structures."
"Also, time sensitive "Birthday Missions" will occur on the birthdays of characters from the original work, through which you can receive special rewards like special voices as a result. These missions are being prepared for more than 20 characters."
You can check out the gallery below as well.
Leave a Reply