Bloodstained: Ritual of the Night reveals playable character Aurora from Child of Light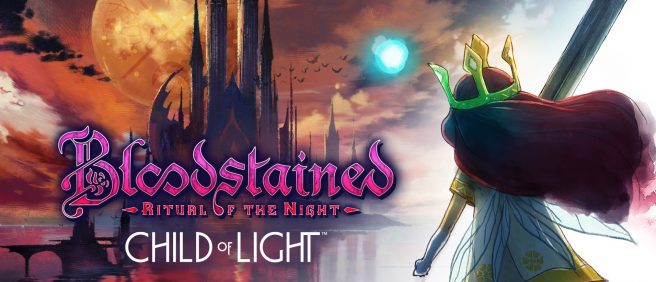 It's been revealed that Aurora, who comes from Ubisoft's Child of Light, is joining Bloodstained: Ritual of the Night as a new playable character.
After a new update is installed, players can start a new game with Aurora from the main menu. Once they've selected the save file name, they'll be able to choose Miriam, Zangetsu, or Aurora as their starting character.
The premise of Aurora's story is that she's "lost her way and awoken in a strange, dangerous new land." She'll need to find a way to escape with the Sword of Matildis. Thankfully, she's not alone as the whisp Igniculus is by her side and Johannes can help her increase her power by transmuting items found in chests.
While battling enemies, Igniculus acts independently and can temporarily slow down enemies or heal Aurora with a flash of light. Aurora can use Light Ray – which uses XP – to damage enemies caught in the light lock.
Another aspect of the crossover content is that Aurora will be able to gain power by defeating enemies and absorbing Shards. As publisher 505 Games notes: "The Grade of each ability can be improved by collecting more shards of the same type and, with the help of Johannes, you can level up the Rank."
Finally, after defeating certain bosses, Aurora will grow stronger and gain additional abilities as she ages. She'll be able to take on new movement abilities and unlock previously inaccessible parts of the castle.
Below is a trailer showing off the Aurora Child of Light crossover in Bloodstained: Ritual of the Night:
The Aurora Child of Light crossover will begin to launch on March 31, 2022 on most platforms. However, the Switch version is set to receive the content at a later today.
Leave a Reply