Burger King giving away 490 Wii U Basic Sets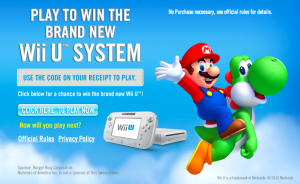 Edit: As Chris pointed out, technically you don't have to buy anything– you can request a code and receive it via email!
We all know that Burger King has Wii U/Nintendo toys starting today, so it should come as no surprise that the fast food chain is teaming up with Nintendo to give away four hundred and ninety (that's 490) Wii U Basic Sets (the white ones) between now and December 2nd. Don't get too excited though– even if you win, you won't receive your system until sometime in January or February, and you have to buy something from Burger King in order to obtain a code to enter on their official site.
Still, pretty good advertising for Nintendo! I really hope this "Wii U" thing works out for them…
Leave a Reply