Update: Treyarch comments on Black Ops III platforms – CallofDuty.com now supporting Nintendo Network IDs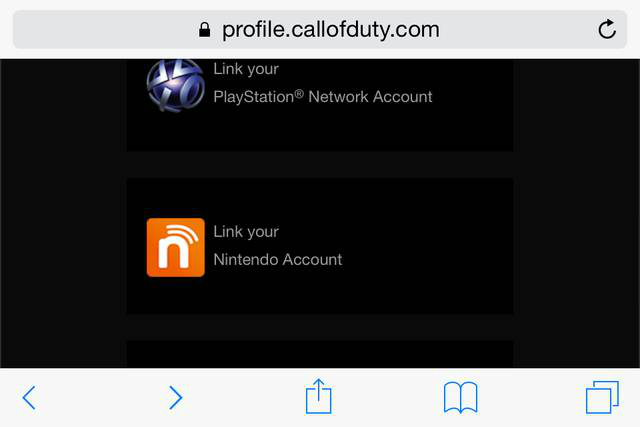 Update 2: Perhaps there's a tiny bit of hope after all? It's not too much to go on, but take a look at this excerpt from a Eurogamer article:
"We're working on Xbox One, PS4 and PC. That's it," he (Treyarch studio head Mark Lamia) added. As for other platforms such as PlayStation 3, Xbox 360 and – stop smirking at the back – Wii U? We were directed to Activision, which said it had no further platform announcements at this time.
Lamia didn't explicitly say that Black Ops III isn't in the works for Wii U. With Nintendo versions, Activision has announced those after the initial Call of Duty reveals. But we've never seen a case in which PlayStation 3, Xbox 360, and Wii U versions were confirmed at a later date. Is that's what's going to happen this time around? I really have no clue anymore. It won't be fun if we're waiting months to find out if a Wii U version is/isn't happening!
---
Update from Brian (4/26): Bumping this to the top. I don't usually like talking about "x game not coming to Wii U" unless a developer explains/comments on the situation, so I'll leave this here instead.
Call of Duty: Black Ops III was speculated as possibly coming to Wii U, but it seems as though it won't be happening. The official website says that it's only for the PlayStation 4, Xbox One, and PC.
---
In a strange turn of events, despite Wii U seemingly being dropped from Call of Duty support, Nintendo Network IDs have shown up at CallofDuty.com for you to link your profile with.
It's interesting to note that with the recent announcement of Black Ops III, and the fact it's Treyarch's turn to develop this year's title – who's also responsible for every Call of Duty to make it to the Wii U – this leads to speculation that we could possibly be seeing Black Ops III make an appearance on Nintendo's console despite missing 2014's Advanced Warfare by Sledgehammer Games.
A couple of months back, Call of Duty: Advanced Warfare was seen briefly in Target's database for Wii U, and though it's not out of the question that the Wii U could be getting it this year instead of Black Ops III considering Treyarch handled the Ghosts port from Infinity Ward, it would also be impractical to have Treyarch working on two games simultaneously, not to mention marketing an older title when the interest has quickly passed would be a tough thing to sell (looking at you, Watch Dogs).

What do you make of this? Would you like to see Black Ops III make it to the Wii U this year? Let us know your thoughts in the comments below!
Leave a Reply