Capcom Arcade Stadium devs on how the included games were decided, different packs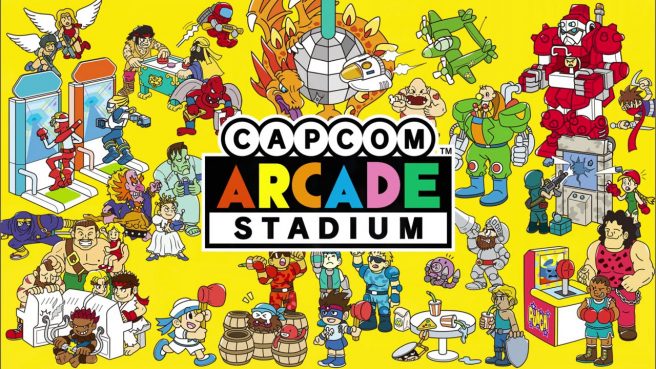 Back in February, Capcom Arcade Stadium released on Switch. Fans can experience 32 classic titles from Capcom's history starting in 1984, going all the way through 2001.
Netorabo spoke about the Switch release in greater detail with its developers, including producer Michiteru Okabe and director Takashi Matsuda. The site first asked about how the project actually came to be in the first place.
Our translation is below:
Okabe: It all started when Tsujimoto (Kenzo Tsujimoto, CEO of Capcom) mentioned how he wanted gamers to able to play older Capcom titles. That idea floated around for a while, but development didn't start until around 2019. The foundation of the project was less 'choose the games' and more 'do everything'. There are actually a couple of hundred arcade games released by Capcom (laughs).

Everything!?

Okabe: We started off by checking where the rights for each of the games were. We looked at which company had the rights to use the different logos, with who did work on each of the games and all the processes around the different rights involved. We checked everything. Unfortunately, there were a few games that we couldn't use due to various circumstances.

Matsuda: We looked at the state of the ROM files, development data and other files from the past and gathered everything in order figure out what would be possible to make. Our original intension was to release everything but we felt that it could take around 10 years to do so (laughs). We knew that we needed to put this out as fast as possible and that was our chief consideration when deciding on the lineup.

Okabe: I hope people will be pleased with the games we've chosen.
The same interview also included some discussion about the different bundles in Capcom Arcade Stadium. There are three in total, each of which contains ten games.
On the topic of selection, was the selection process different from the past releases such as "Capcom Arcade Cabinet" and "Capcom Beat 'Em Up Bundle"?

Okabe: Completely different. This project is the first within the company to bring the entire Capcom archive together.

It's rare to see games sold in packs of 10.

Okabe: Of course, we want everyone to buy every bundle, but that would only make the game accessible to people who buy the full version. The games we play usually differ according to our age and we decided to bundle the games by generation. We considered breaking them up by genre, but we decided that organizing games by generation creates bundles more gamers will resonate with.

Matsuda: We also wanted the people to have enjoy an arcade feeling by buying several the titles in bulk.
Capcom Arcade Stadium is out now on the Switch eShop. Fans can purchase different packs for Dawn of the Arcade ('84-'88), Arcade Revolution ('89-'92), and Arcade Evolution ('92-'01). You can find the full list of games here.
---
Big thanks to centurionnugget and Jarop for their assistance with this translation.
Leave a Reply