Castlevania Dracula X heading to the North American New 3DS Virtual Console tomorrow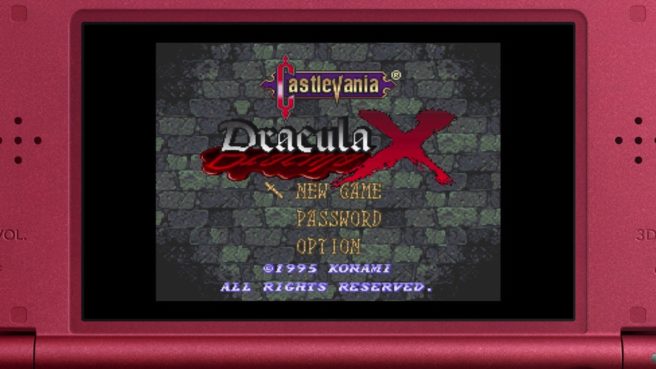 Update (12/28): Nintendo's website is listing Castlevania Dracula X for December 29. May have just been a one week delay.
---
Update (12/22): Castlevania Dracula X will not be releasing on New 3DS today. It was not mentioned in Nintendo's digital press release, and the listing has been removed from the company's website. Hopefully it's only been delayed until next week.
---
Original (12/21): On Wii U, Mario Party 2 arrives on the Virtual Console tomorrow. But New 3DS won't be left out of the re-release fun. Nintendo's website indicates that the portable will be getting Castlevania Dracula X following tomorrow's eShop update.
Here's an overview:
"After rising from his eternal sleep, Count Dracula summons his dark minions–Cerberus, Minaurus and the Salamander–to bring a reign of terror on the land. In order to lure the latest Belmont descendant, Dracula kidnaps Annette Renard and her sister Maria as bait.

Gear up as Richter Belmont, equipped with the legendary Vampire Killer, in his strife to save his beloved. Battling against the monsters that lurk in the shadows, strategically using magical tomes, mystical power-ups and titanic weapons and discovering secret bonus levels. Unfold another chapter in the Belmont family's lineage, with over 7 stages of grim encounters and a myriad of possibilities depending on the choices that you make."
Castlevania Dracula X will be priced at $7.99.
Leave a Reply