Crash Team Racing Nitro-Fueled – Neon Circus Grand Prix starts November 8, details and trailer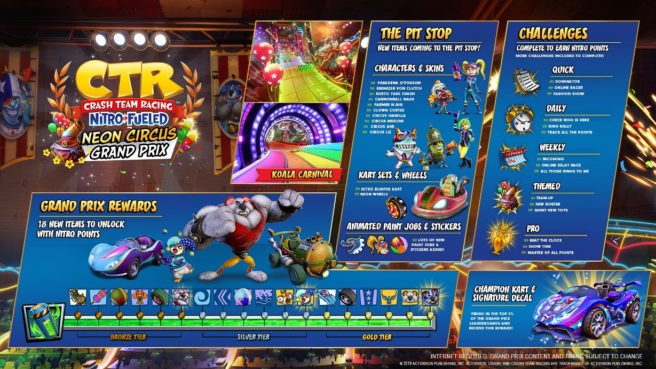 Yet another major event is about to start in Crash Team Racing Nitro-Fueled. Activision and Beenox have detailed the new Neon Circus Grand Prix, which starts November 8 at 7 AM PT / 10 AM ET.
Here's everything you need to know about what's included:
First and foremost, you'll want to experience Koala Carnival, the new track that comes along with this Grand Prix. Before you get out there, we've got some track-mastering tips and all the details on the new content.

Back to the Track

It's a circus or "carnival" of fun on the new track, Koala Carnival! A new character, Koala Kong – the headliner of this season's Nitro Gauge reward set – is the master of ceremonies on this course that is as colorful as it is death-defying. Race around this track fit for a circus hand while dodging cannon bursts, avoiding fire blasts from the ground, and be the first to cross the finish line. Also, don't forget to put on a spectacle… this is the circus after all.

On Koala Carnival, you can get in the race with three new karts that are available in the Neon Circus Grand Prix: The Nitro Bumper Kart, the Pressurizer, and the Daredevil. If you'd like to channel some carnival, pick up the Nitro Bumper Kart in the Pit Stop. Or earn the Daredevil and Pressurizer – a Crash Tag Team Racing throwback – through the Nitro Gauge.

Circus Tricks and Tips

Want to be a master of the Koala Carnival? Try out these three tips to see if you can outrace the competition:

– Track Knowledge: With any track, knowing the curves, bends, and details makes it that much easier to navigate. Make your first few races on Koala Carnival a "Crash" course in the track, so you can work your way to being on top of the big top.
– Power-Ups: Collecting power-ups during the race can be the difference in getting an edge on the competition. Consider always grabbing a power-up — you never know it may just what you need.
– Practice: Like all things, mastery takes time. Practice the track and try out different karts, driving styles, and routes to find what works best for you.

Rally Up and Get Rings

A new game mode that puts your skills and endurance to the test – Ring Rally has arrived with the Neon Circus Grand Prix as a new game mode. The time continually counts down from the moment you take off, making this a race to survive the longest and earn a high score. Time is added onto the clock for each ring you collect, and rings give you a boost to help you get down the track even quicker.

Earn points in this mode by collecting rings and by finishing a lap with the time remaining on the clock to set a new record. In each successive lap the rings – laid out on the track's optimal route – get smaller, making it even harder to collect and keep on driving. Endure on the track as long as you can and once you clock in a time face the ultimate challenge: can you beat your own record?

If you're looking for some tips to master Ring Rally, we've got you covered:

– Boost Power: The more you boost, the faster you go. Collect the rings to get boosts and help maintain top speed.
Get Those Rings: The goal if Ring Rally is to finish each lap and gain a high score. Rings add seconds on to your timer and give you more points making them twice as important.
– Navigate: Some shortcuts contain rings, others don't. Choose your path wisely to master the best route on the track and take that knowledge into other game modes.
– Style Points: Sometimes you might need to change up your driving style to clock in the best time. Don't be afraid to switch things up and experiment to find what works best.
– Keep On Going: Each lap, the rings get smaller and smaller, upping the challenge to collect them. Consider changing your strategy and speed as you progress to keep hitting those rings.

Hit the Big Top

Koala Carnival and the Ring Rally aren't the only pieces of new content in the Neon Circus Grand Prix. There's a new set of rewards in the Nitro Gauge, a host of Challenges to earn Nitro Points and a new set of customization items in the Pit Stop – most importantly, new fan-favorite racers make their way to the scene with Pasadena O'Possum, Ebenezer Von Clutch and Koala Kong, himself!

Plus, you have a chance to earn this season's Signature Decal and Champion Kart (if you don't already own it) if you make it to the top 5% of the Neon Circus Grand Prix Champion or Nitro Leaderboards. Experience the joy and the fun of the Neon Circus Grand Prix in Crash Team Racing Nitro-Fueled.

Good Luck, Bandicoots!
We've attached a trailer showing off the new Crash Team Racing Nitro-Fueled Neon Circus Grand Prix below.
Leave a Reply