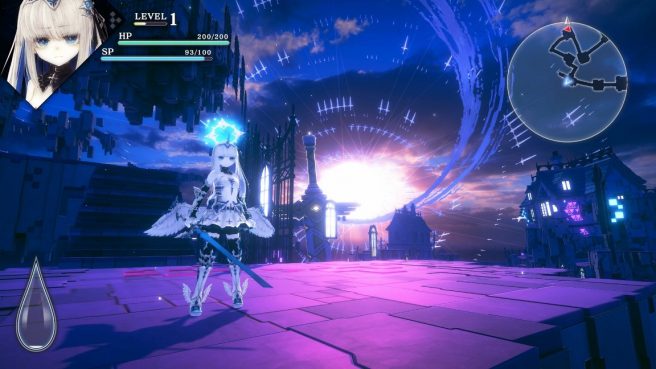 NIS America has released a new gameplay trailer for their upcoming title Crystar, a JRPG developed by FuRyu and Gemdrops. The game is releasing on Switch March 29 in America and April 1 in Europe.
Here's an overview of the game:
Rei and Mirai are sisters who are suddenly dragged into a mysterious world known as Purgatory, where otherworldly monsters lurk. It is in this strange realm that Rei not only discovers a hidden power, which allows her to fight back, but consequently leads to her downfall as she loses control and accidentally kills her sister.

Overcome with grief and despair, Rei is approached by Demons who offer her a sinister contract: serve as their Executor and rid Purgatory of the corrupted monsters that plague them, and in return they'll grant her the means to revive her sister. As Rei teams up with other Executors and discovers the truths of the fragmented souls within Purgatory, she will wrestle with the demons around and within herself as she desperately searches for a way to save her sister and return home.

CRYSTAR sets you in a grim world where lost souls dwell and your tears grant you power. Swap between a cast of unique playable characters and use their strengths to challenge deranged hordes of Specters and Revenants. Build up your Tear Gauge in battle and use it to summon mighty Guardians to stand alongside you. And when the Torments from defeated foes threaten to overwhelm you with despair, weep and grieve to achieve catharsis and draw strength from your woes to enhance your attacks and armor.

Rei Resurrected: Experience the definitive version of this beloved title for the first time on Nintendo Switch, complete with all previously released content.
Purgatory Awaits: Shift between the real world and the realm of lost souls as you search for a way to revive your fallen sister. Meet the Demon-bound denizens of Purgatory and harness their powers to fight against corrupted hordes of Specters and Revenants.
From Tears to Triumph: Purge foes to accumulate Torments, purify them to collect Sentiments for battle, and fill the Tear Gauge through combat in order to summon powerful Guardians and your full potential.
We have Crystar's gameplay trailer below:
Crystar will be released both physically and digitally on Switch. You can have a look at the official site here.
Source: NIS America PR
Leave a Reply