Cube Creator DX details – three modes, online support, retail release in Japan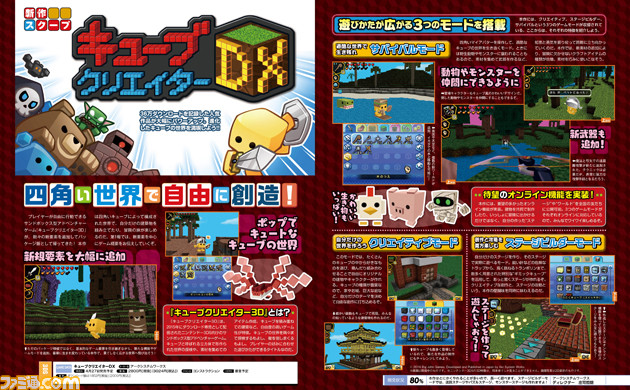 First details about Cube Creator DX have leaked out of Famitsu. As translated by Gematsu, three modes are included:
– Survival Mode – Control your avatar and survive the cruel world. New weapons and materials have been added, and the variety of items you can craft have doubled. You can also recruit animals and monsters.
– Creator Mode – Freely create buildings and characters.
– Stage Builder Mode – Create your own stages, and then play those stages. You'll be able to use a great number of "Gimmick Cubes," such as dangerous traps and jumping trampolines.
Online support is also in Cube Creator DX. It will be possible to make buildings with other players and publish stages / worlds through the internet.
Cube Creator DX releases in Japan on April 27. It'll be sold at retail for 2,800 yen, but a digital version will also be available for 1,852 yen.
Leave a Reply