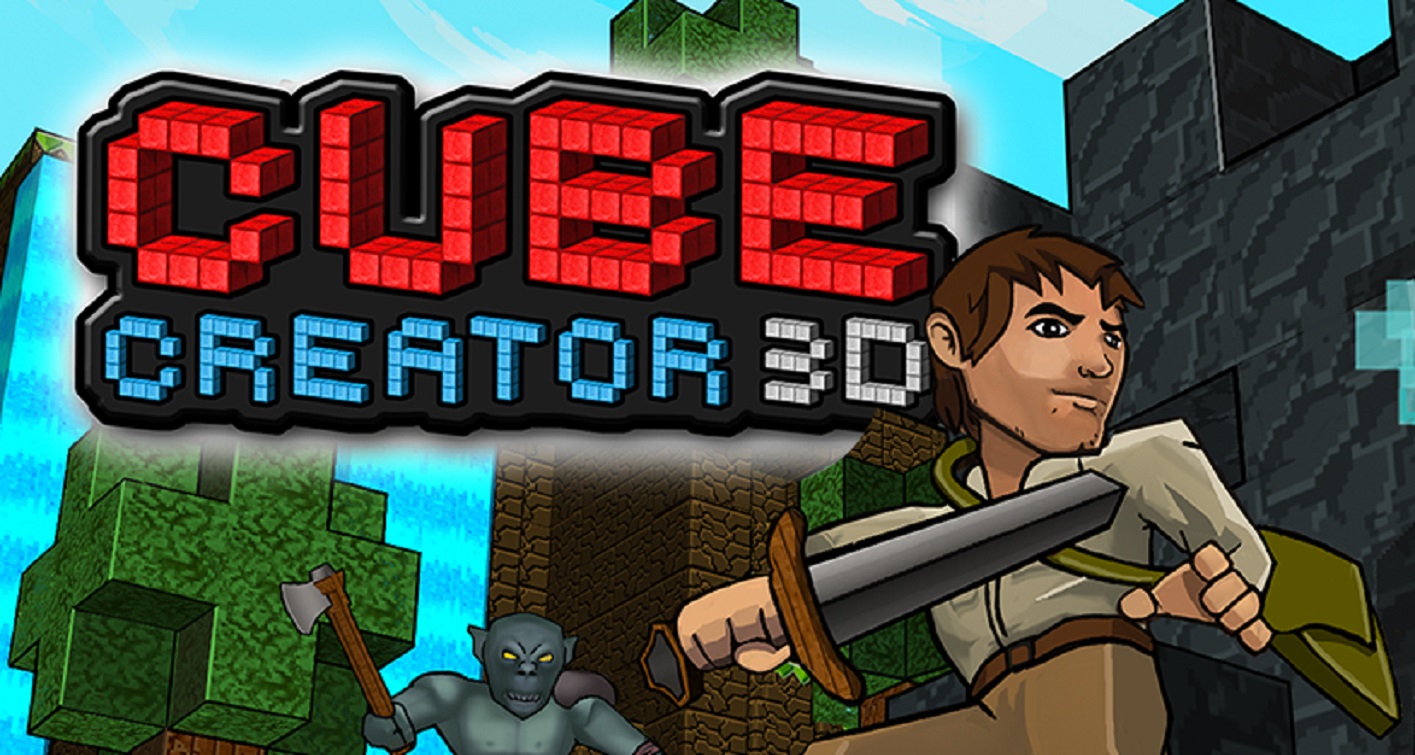 Big John Games had been working on a big update for Cube Creator 3D for quite some time. After a few setbacks and delays, the patch has finally gone live in North America.
Players will be able to access several new features once the update is applied, including two-player local multiplayer. We have the full rundown on what's been added below.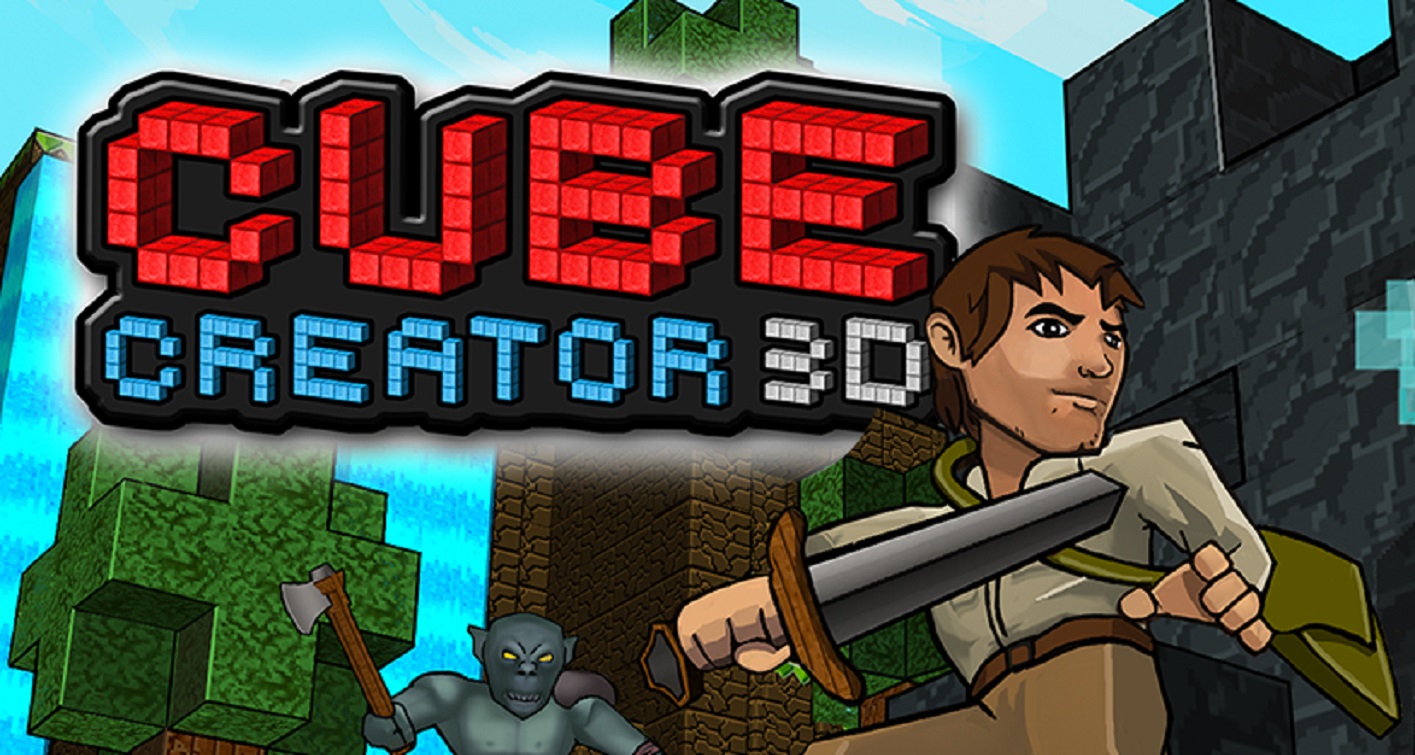 There hasn't been much news about it lately, but Big John Games has still been hard at work on Cube Creator 3D's 1.2 update. A preview video recently shared features two-player multiplayer, magic wand, battle scene with a beholder (eye-creature), flags, new music, running, and armor in an inferno world with the woolly texture.
Big John Games says that the new update "is almost complete." Once finished, it will be submitted to Nintendo for approval and release.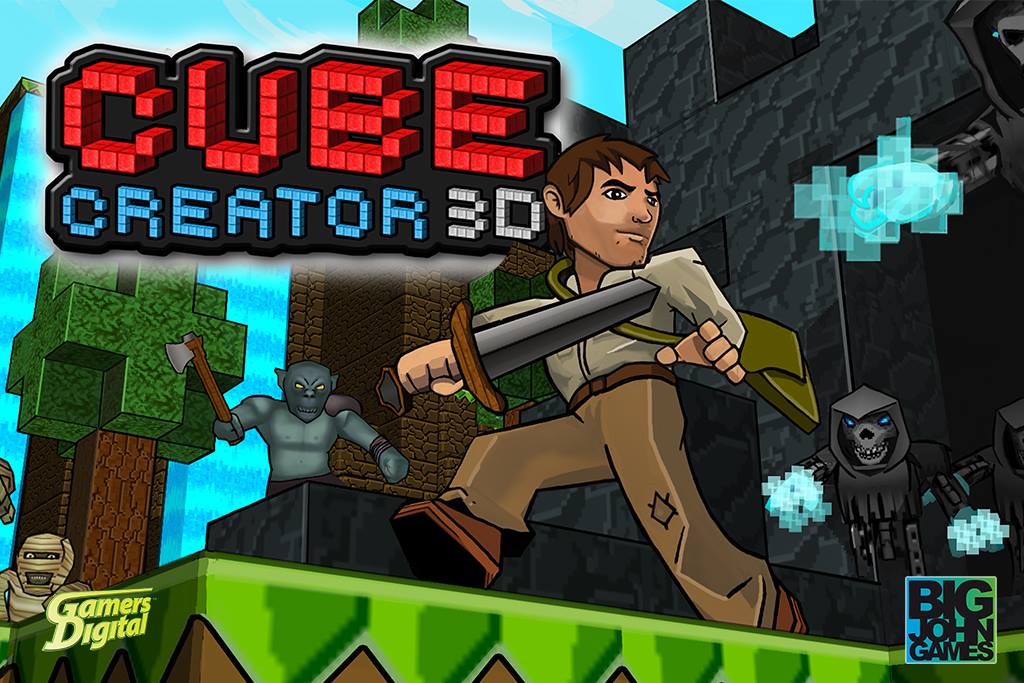 Cube Creator 3D has been very successful in Japan – perhaps even more so than in the west. Since launch, the game has sold 360,000 copies on the eShop in the country.
Japan is getting a new Cube Creator game, Cube Creator DX, in April. You can learn more about it here.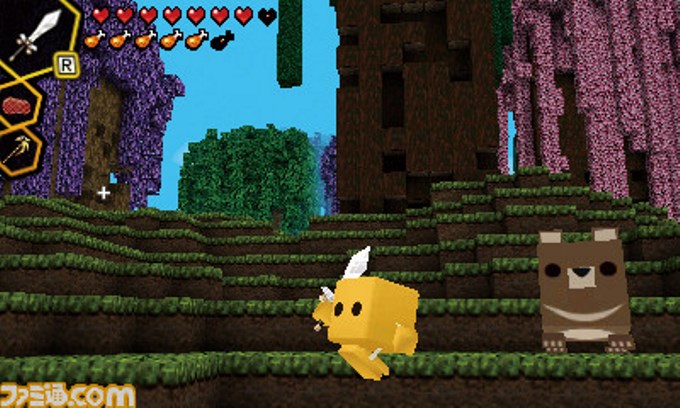 Famitsu announced Cube Creator DX for 3DS this week, and has since shared first screenshots from the game. We've rounded them up in the following gallery: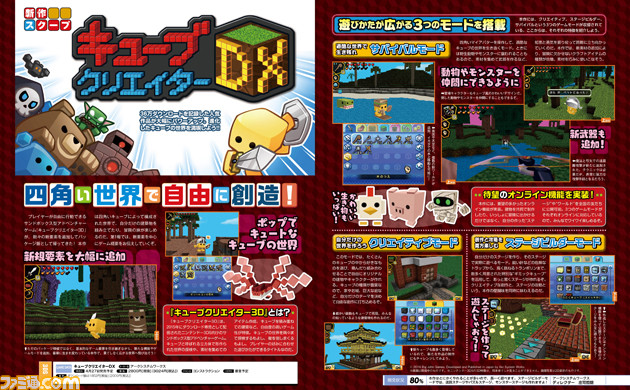 First details about Cube Creator DX have leaked out of Famitsu. As translated by Gematsu, three modes are included:
– Survival Mode – Control your avatar and survive the cruel world. New weapons and materials have been added, and the variety of items you can craft have doubled. You can also recruit animals and monsters.
– Creator Mode – Freely create buildings and characters.
– Stage Builder Mode – Create your own stages, and then play those stages. You'll be able to use a great number of "Gimmick Cubes," such as dangerous traps and jumping trampolines.
Online support is also in Cube Creator DX. It will be possible to make buildings with other players and publish stages / worlds through the internet.
Cube Creator DX releases in Japan on April 27. It'll be sold at retail for 2,800 yen, but a digital version will also be available for 1,852 yen.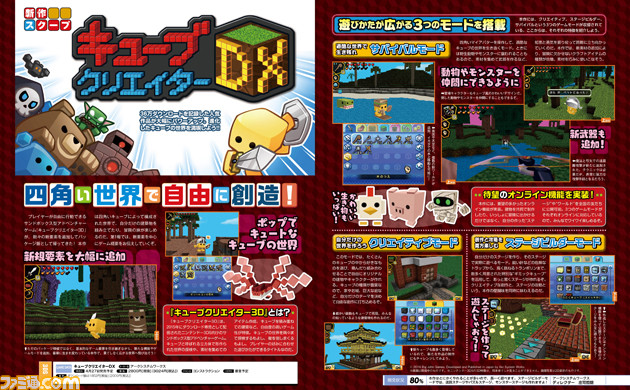 The latest previews for this week's issue of Famitsu revealed that Cube Creator DX for Nintendo 3DS is in development. This seems to be an improved version of Cube Creator 3D, rather than a true sequel. We will bring you more infos once we have access to full scans of this week's issue of Famitsu.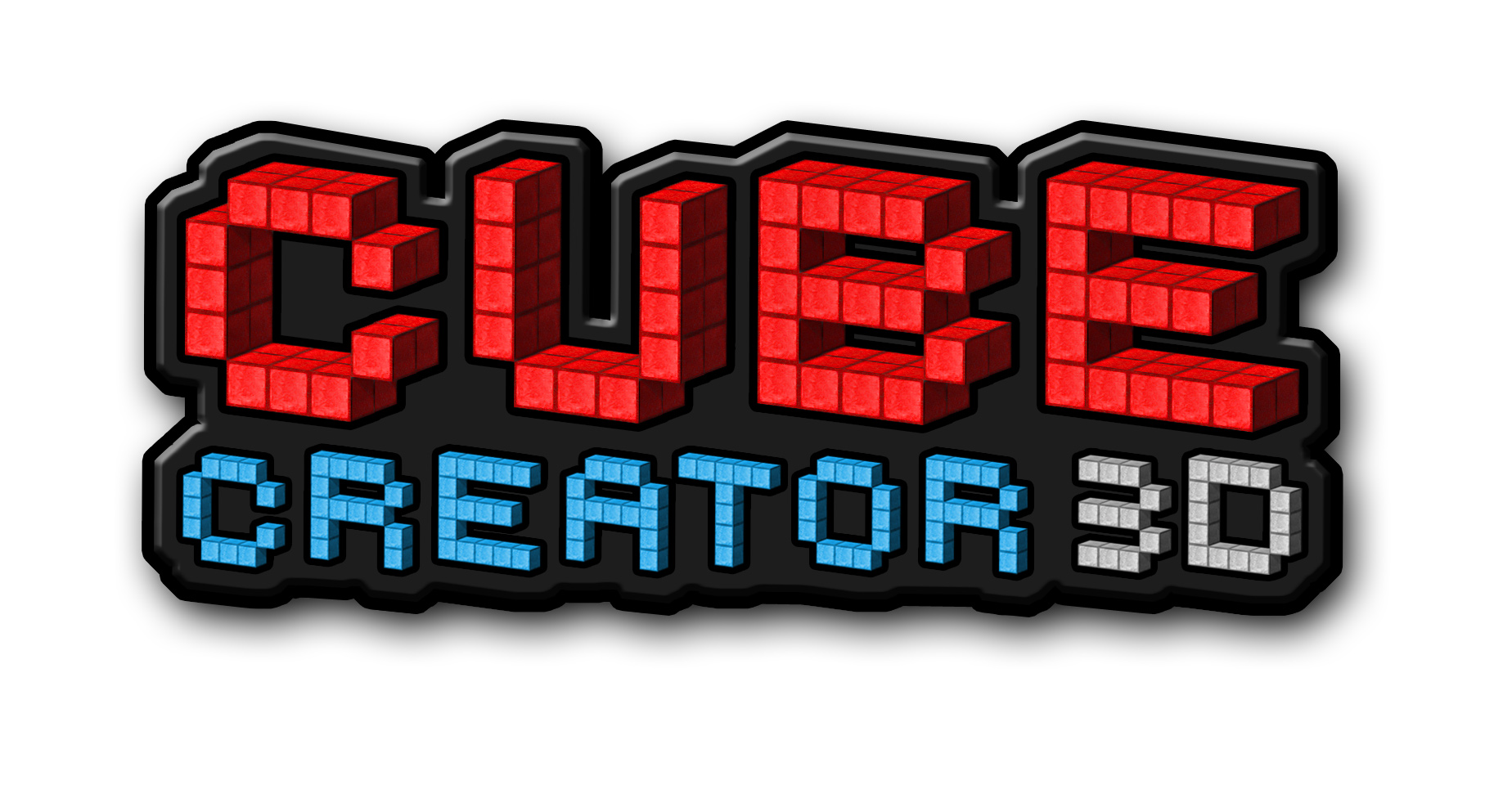 An update on the progress of Cube Creator 3D 1.2 has just been posted on developer Big John Games website from Ken Patterson, president of Big John Games. You can read the post below.
Dear Loyal Cube Creator 3D Players,

There has been a slight delay in development of Cube 1.2. We are a family business. As such, we have had an unexpected tragedy in our family and that has required much of our time to be devoted to mourning, grieving and dealing with many family matters.

I would also like to let everyone know we are down to last our last 50 bugs. We are working hard to eliminate these as fast as possible. We are back to 100 percent and are knocking off these bugs as quickly as we can.

Thank you for all of your support.

Ken Patterson, President of Big John Games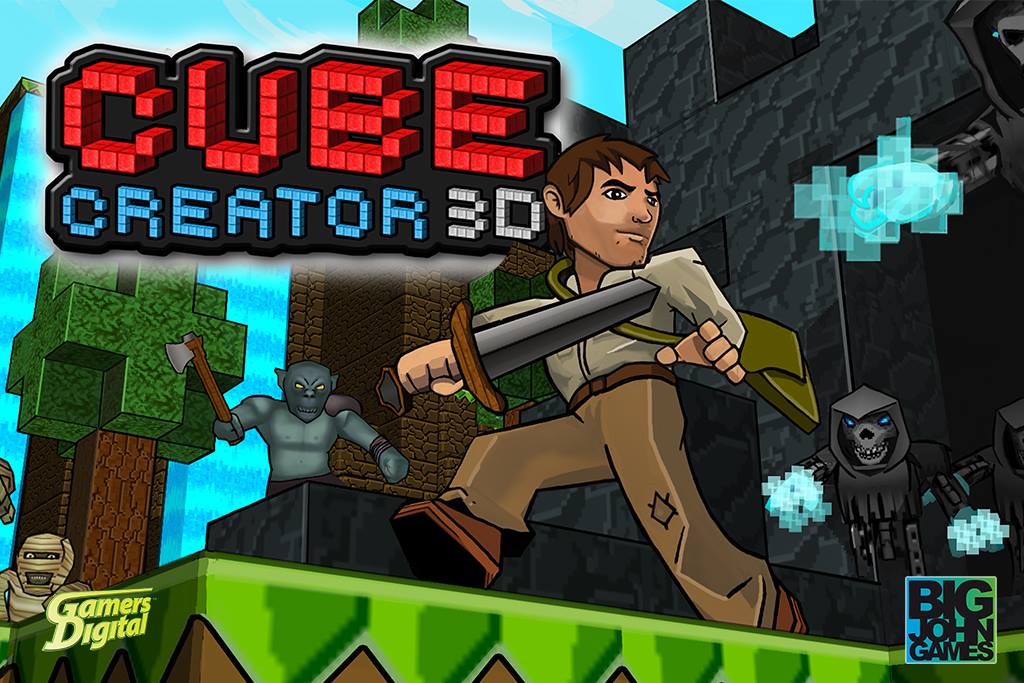 Big John Games was close to ending development on video games last summer. But thanks to the success of Cube Creator 3D – notably in Japan – the company is now on the rebound. It's the eighth best-selling 3DS eShop title in Japan, and it sold ten times as many copies as it had in America.
Thanks to Cube Creator 3D, Big John Games is now able to fund its own projects. The studio is starting out with "Racer Creator" which seems like it will end up on 3DS as well.
Interestingly, Big John Games and Arc System Works – who published Cube Creator 3D in Japan – were invited to a meeting with Nintendo to talk about upcoming projects/partnerships. Big John Games may end up receiving early access to NX as a result. While they wait on a development kit, the company is still working on 3DS, so it'd make sense for Racer Creator to be on that platform.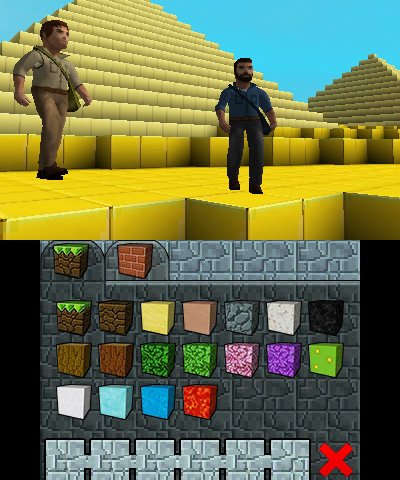 Despite having launched last year, Big John Games is still working on Cube Creator 3D to provide the game with updates. Version 1.2 is currently in the pipeline.
One feature set to arrive with the next update is multiplayer. You can see what this looks like via the attached screenshot.
As for the update, it's unclear when exactly it will be pushed out to players.
The very 1st peek at #multiplayer dev for #CubeCreator3D 1.2; view from 1 #3DS showing 2 other live players. pic.twitter.com/8S5O34Uiig

— Big John Games (@BigJohnGames) February 25, 2016
…we still don't have a timeline to announce, but #multiplayer for #CubeCreator3D is certainly on its way. More to come very soon! #3DS

— Big John Games (@BigJohnGames) February 25, 2016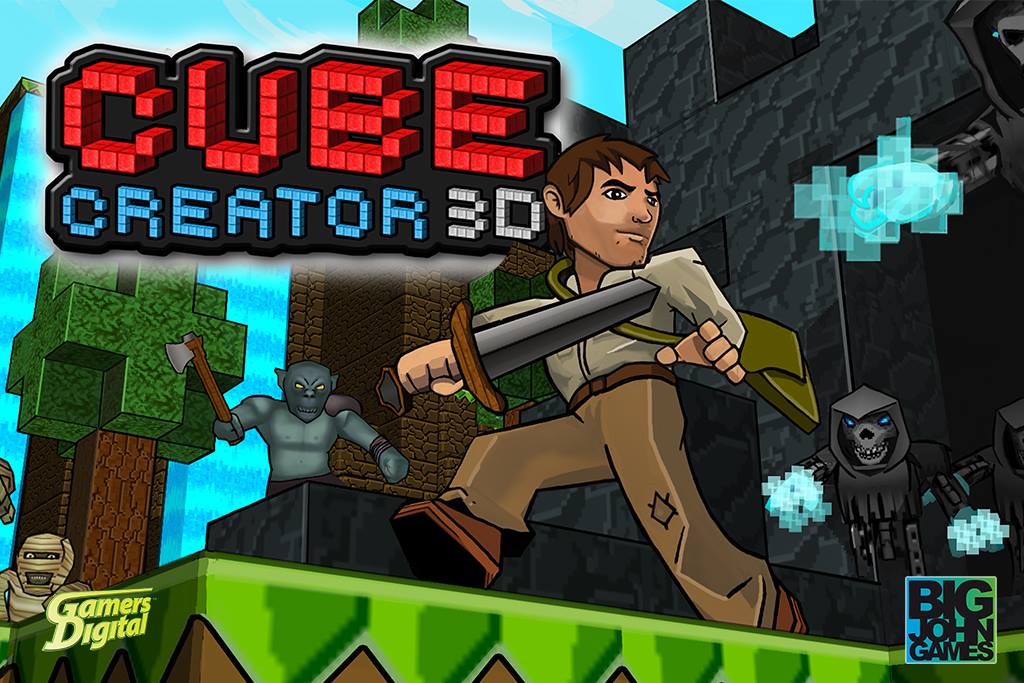 Cube Creator 3D version 1.1 was previously made available in North America a few months back. Thankfully, European players won't need to wait much longer for its arrival.
Big John Games announced on Facebook earlier today that Cube Creator 3D's latest version is scheduled for Thursday. The studio's message is as follows:
Check out this post to find out what's new in Cube Creator 3D version 1.1. There's also a trailer here.