Dawn of the Monsters out in March, new details, story trailer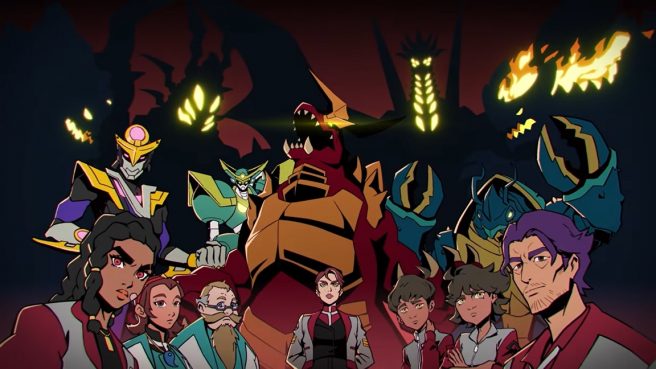 Publisher WayForward and developer 13AM Games have provided more information about Dawn of the Monsters including details about its story as well as another release window update.
The giant-monster beat 'em up title is now confirmed for a March release. It was last said to be on track for the first half of 2022.
Here's an overview of the story in Dawn of the Monsters as well as a new trailer:
The Dawn of the Monsters saga begins in 2036 when enormous creatures known as the Nephilim invade Earth, leaving calamity in their wake. To counter the threat, a global task force known as DAWN (Defense Alliance Worldwide Network) is established, but it isn't until three decades later that humanity can properly strike back. With four gargantuan guardians at its command – Megadon, the living volcano; Ganira, the colossal crustacean; Aegis Prime, a superhuman warrior; and Tempest Galahad, a massive mech – DAWN prepares to reclaim the planet.
Also revealed today is that 13AM Games has teamed up with a bunch of artists that are lending their talents to the title for in-game and for promotional purposes. The list is as follows:
Shinji Nishikawa – This world-renowned kaiju designer who worked on the Godzilla film series and SSSS.Gridman designed the flame Nephilim, Agnitor.
Matt Frank – A comic book artist known for his work on IDW's Godzilla comics, Arrow Films' Gamera: The Complete Collection box set, and the Redman comic series, Matt Frank designed the Bakudon and Inazudon Nephilim. He also created a piece of key art and illustrations for the game's physical collector's edition.
Yuji Kaida – One of the most well-known kaiju artists living today, Yuji Kaida has created illustrations for Neon Genesis Evangelion, Godzilla, Gamera, and Ultraman, as well as video games such as Monster Hunter and more. He created the painting that will adorn the game's physical collector's edition.
Zander Cannon – An Eisner Award-winning comic book artist famous for his ongoing comic series Kaijumax from Oni Press, Zander Cannon created one of the game's promotional illustrations.
EJ Su – Known for his work on Marvel's Rise of Ultraman and IDW's Godzilla Rivals and Transformers comic books, EJ Su produced numerous pieces of art for the game, including key art, character illustrations, and promotional comic illustrations.
Kim Jacinto – With work seen in numerous Marvel comics, including Rise of Ultraman and Shang Chi, Kim Jacinto provided the game's alternative cover art.
DJ Crumrine – This animator and storyboard artist at Titmouse who worked on Animaniacs and Critical Role is also a huge kaiju fan. He created one of the game's promotional illustrations.
Zedd – An incredibly talented illustrator and animator known for his kaiju and Monster Hunter art, Zedd worked on the cutscenes for Dawn of the Monsters.
Robo7 (Jon Belotti Jr.) – An artist who loves illustrating giant monsters, Robo7 has done work for G-Fan, Famous Monsters of Filmland, and Alien. He provided header card art for Seismic Toys' Megadon and Ganira figures.
Caroline "Luka" Bromley – A concept artist and merchandise designer for the RWBY series who also loves kaiju and helped spearhead "Kaiju Monster March" on social media. She created chibi illustrations of the Dawn of the Monsters cast.
Ninsai Kato – A kaiju artist from Japan, Ninsai Kato lent her talents with a promotional Megadon brush-ink illustration.
Powerhouse Animation – Known for animated series such as Castlevania, Masters of the Universe: Revelation, and the upcoming Skull Island, Powerhouse Animation created the phenomenal opening animation for Dawn of the Monsters.
Dawn of the Monsters will initially debut digitally on the Switch eShop. Limited Run Games is planning a physical release for a later date.
Source: WayForward PR
Leave a Reply