Diablo III Eternal Collection details on frame rate, resolution, more; no cross-play, Blizzard on Nintendo relationship and rumored tease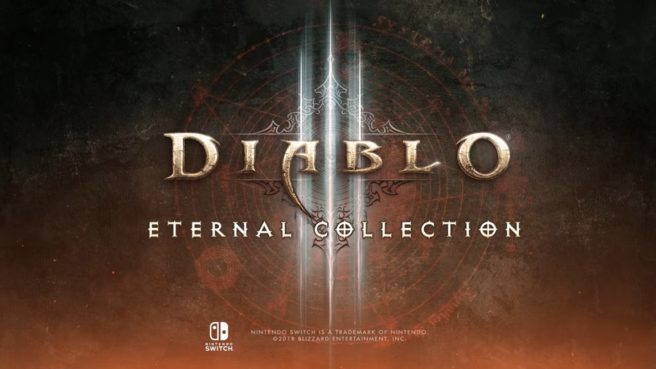 Eurogamer has some additional information about Diablo III Eternal Collection, which was officially announced today. The latest details cover frame rate, resolution, and more.
Here's the full roundup:
– Release date is "tentatively fall this year"
– Dive straight into Adventure Mode without completing a campaign playthrough first
– Blizzard expects many people buying the game on Switch to be seasoned Diablo 3 players who would rather skip the storyline
– Will fully support offline play – with the exception of Diablo 3's Seasons
– Seasons periodically offer players a fresh start, additional objectives and rewards and a competitive, laddered levelling experience
– Seasonal characters will only be playable online
– Online play will be via Nintendo's new paid service
– The service's cloud saving system will automatically back up progress made offline in the background once the Switch has an internet connection, without requiring the game to be launched, or any other manual process
– If you have a Diablo 3 cloud save, you'll be able to load your profile onto a friend's Switch so you can use your characters with them in local play on a single console
– Can't transfer your progress from the PC or existing console versions of the game
– 60 frames per second "across the board"
– Native 720p resolution in handheld mode
– 960p when docked
– No differences between docked and handheld play aside from resolution
Eurogamer also has some quotes from senior producer Pete Stilwell. First up, there was talk about cross-platform play, which sadly won't be included:
"It's not available at this time. I wouldn't ever take anything off the table, it's something we're exploring, that we're interested in. But it is not currently a feature."
Stilwell also spoke about working with Nintendo:
"It's been fantastic, and that's not just lip service. Nintendo's a developer first, as Blizzard is… To get to negotiate things like what would our tie-ins be, we got to nerd out and love their IPs – it's awesome to collaborate with other developers like that. I hope it's the start of a really great future between Blizzard and Nintendo."
Diablo has been rumored since earlier in the year when Blizzard posted a short video showing a nightlight being turned on and off. But as it turns out, despite the rumors, it wasn't an intentional tease.
"I think we weren't lying when we said we weren't that clever. Something that we put out that we found around the office wasn't intended to be so on the nose."
Leave a Reply