[Interview] Gameloft on how Disney Speedstorm came to be, post-launch plans, more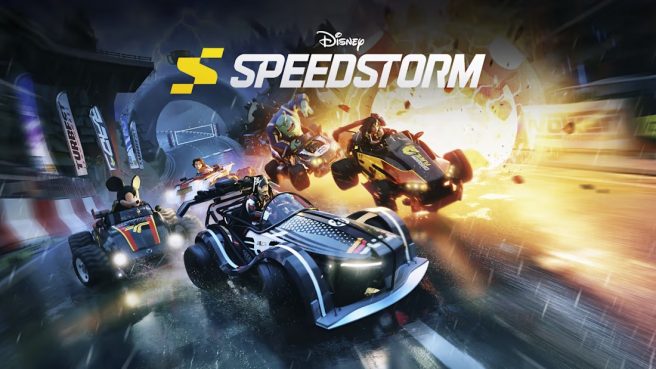 Another game is joining the lineup of kart racers on Switch with Disney Speedstorm, which launches this summer. To learn more about it, we caught up with Gameloft Barcelona game manager Aska Suzuki.
During our chat, we spoke about topics such as how the project came to be in the first place, what to expect with support after launch, and more. You can read our full discussion below.
How did Disney Speedstorm come to be? Was it Disney that reached out first or Gameloft? Also, how long has the game been in development?

We met halfway to make this game. After launching Asphalt 9: Legends, we were ready to step up our game and embrace multi-platform and crossplay experiences. At the same time, the Disney and Pixar Games team were intrigued about the concept of developing a Disney and Pixar racing title inspired by our previous work with the Asphalt series. Together we wanted to explore something that could feature multiple characters fans wouldn't expect to see together in a game like this. We were excited to try developing a new type of racing experience that was more complex and ambitious, and involving characters and deeper player interactions beyond just racing. We also wanted something truly cinematic, with characters that have monumental presence and history.

So as soon as we started talking, we realized it was a very natural match. In fact, we were both so enthusiastic about this title that we began testing and brainstorming together within just a couple of months of our first conversation.

Beyond being a product of real passion for arcade racing and fantastic characters, Disney Speedstorm is simply the product of our combined experience and ambitions to create something that could stand out on its own amongst our respective game portfolios.

With Disney Speedstorm, Gameloft is taking its excellence in racing and applying it to a high-speed competition where some of the most iconic characters meet asphalt. With so much personality, what was it like ensuring that each character was able to be represented through the look of their vehicle, outfit, and power-ups available on track?

At first, we wanted to create defined racing worlds where each of the Disney and Pixar characters can compete on themed racetracks. After much creative ideation, and we came up with the concept of having all the characters inside an inventive, lively, and charming arcade machine where they race against each other. From that conceit, we built up the Disney Speedstorm experience. Characters are presented wearing racing livery, use karts and power-ups, and are equipped with special skills and abilities. We had a great time re-interpreting these very familiar characters, suited up as highly skilled drivers competing in a shared, action-packed racing challenge. Building each character, from animation to voice, to racing style, their abilities, and even the type of vehicle they drive, has been a long and elaborate journey across multiple creative teams who were all motivated to build the most thrilling, authentic, and deep arcade racing experience on the market. Every single action, gesture, sound, and special ability has been built, tested, developed, and iterated on intentionally to offer each player the chance to experience a variety of characters and alternate play styles.

Gameloft is seasoned when it comes to free-to-play titles, and the Asphalt series is a great example of that type of racing game done right. Are there similar functionalities set in place in terms of structure, or has the philosophy behind the design been completely overhauled to make for a more accessible racing experience for Disney fans of all ages?

Players familiar with our Asphalt games will find a lot in common with Disney Speedstorm, like the progression system and things like the UI and Nitro bars, but we wanted to give the game its own personality too. Features like characters' power-ups, load-outs, special abilities, and their levels are significant modifiers to the core "arcade racing" formula. Technical features like cross-play and cross-progression will make the game more accessible for all players, making it easy to pick up for new players while still remaining challenging for more veteran and competitive players. By leveraging these well-known brands and some fan-favorite characters, we're aiming to make one of the best Gameloft and Disney games on the market.

Can you talk about how the upgrade system works in the game?

As players play through the single-player campaign and through multiplayer, they will level up their racers and unlock consumable items to increase the stats of their individual racers. There are additional elements that allow for even more in-depth character progression, such as the Crew system where players can unlock Crew members and add them to their character loadout to improve their stats. These specific details are better discovered as you play and progress through the game.

Beyond gameplay, there´s a robust layer of visual customization as well, allowing players to explore, equip and show off authentic visual accessories to their karts and their favorite racers. We´ve spent a long time exploring together with Disney and Pixar a full range of custom visuals to allow players to create unique yet instantly recognizable iconic looks for their karts. We plan to greatly expand this post-launch.

Even with Gameloft's extensive history with free-to-play games being hosted on multiple platforms outside of mobile, cross-progression has unfortunately never been available. Are there plans for this to come to Disney Speedstorm, or will players have to inevitably start over if they move over to another system?

We are extremely happy to confirm that cross-progression will indeed be a part of Disney Speedstorm! This is in conjunction with cross-play as well!

Are there plans to include characters from all kinds of franchises, or is there a limitation as to which characters would best fit within the Disney Speedstorm universe? Vanellope and Shank from Wreck-It-Ralph seem like no-brainers!

We are excited to see interest from players about the prospect of which characters could join Disney Speedstorm. So far the community has been abuzz on specifically that! As of right now, we're not going to get too deep into our vetting process, but know that there are many characters to consider and we're looking at them all! Expect to see many many more added regularly to the game in the future.

How did the team ultimately decide on which characters and tracks to choose from the various Disney franchises?

Picking characters and environments is a balancing act and there was so much to choose from as we built the game. Our priority was to launch with a robust roster of characters that not only showcases the amazing variety and diversity the Disney and Pixar source material offers, but also allows for racing action with several diverse playing styles.

What can you tell us about the game's performance on Switch in terms of frame rate and resolution?

We will be addressing specific platform details in the future, but we are aiming to bring all platforms to the highest standards possible, while also creating a cross-platform gameplay experience that is equal for everyone. Development is ongoing, and we are working every day on all versions of the platform, especially for multiplayer modes, to offer players the best online and competitive experience. Our final aim for the Switch version of Disney Speedstorm is to obtain similar performances as Asphalt 9: Legends.

Simply because it's a bit of a kart racer, some will inevitably compare Disney Speedstorm to titles like Mario Kart 8 Deluxe. Other than the Disney influence, in what ways would you say this game stands out?

This is a great question. In Disney Speedstorm, characters aren't just broken up by general types. We've given them one of four classes: Speedster, Brawler, Trickster, and Defender to support the strong combat racing element to this game. Boost management is really important, and each class builds extra boost in different ways, such as a brawler gaining more boost through stunning other racers, or a speedster gaining extra boost by going across boost pads. This provides the opportunity for very strategic racing if players wish to race that way. Additionally, individual characters don't just have special abilities, but they are pre-loaded with specific power-ups, so a trickster character will be more inclined to get items that negatively impact other racers, or a defender might get more defensive items. On top of that, each power-up can be charged in order to perform a different action! More than any other racing game I can think of, character choice in Disney Speedstorm is closer to picking a character in a MOBA game.

Also, we really should reiterate how important the Disney and Pixar game elements are. The feedback we have gathered from Closed Beta players has been really positive, especially towards the audio and graphics elements of the game. From the gameplay to the remixes of popular Disney songs to the incredibly dynamic racing tracks, there is a lot to love!

Lastly, thanks to being a live service game and offering seasonal content, players will have access to regular new content via updates and season passes. New Disney and Pixar racers will be added regularly to Disney Speedstorm, bringing special skills for you to master (or overcome) and unique tracks to pump fresh strategy into the mix. Support crew characters, environments, customization options, and collectibles will also drop in regularly, so there's always more to experience.

10. With premium passes available that allow for a multitude of exclusive rewards, are there plans to eventually offer new characters and skins as well, or will those be made available through separate packs and updates?

Absolutely! We want to reiterate that all characters can be unlocked through gameplay, but there will be things like special events and Season Passes where certain characters might receive some special attention. Introducing new characters and environments is a super important part of our game, and foundational to the future of Disney Speedstorm. In fact, we are planning to release new Seasons focused on specific Disney and Pixar IPs and introduce additional characters. The characters you'll see at launch are only the beginning! That said, Disney Speedstorm will offer numerous ways for players to unlock racers via normal single-player and multiplayer gameplay, Season Passes, rewards, and in-game purchases. Players will also find things like vanity items and upgrade materials that will let players level up their favorite characters.

After launch, what do you feel like the future of the game will be? Is this something Gameloft hopes to support for years to come?

We plan to fully support Disney Speedstorm throughout the game's lifespan. The launch will be just the beginning and we'll keep bringing new features, characters, game modes and even more unique opportunities for players to compete. Players can expect the game to continue to evolve past its launch format, following our own experience in delivering a robust live service to our players and in consideration of our amazing community feedback. This is only just the beginning of this game, and we can't wait for players to check it out!
Leave a Reply