Doom Eternal details Switch physical release, including collector's editions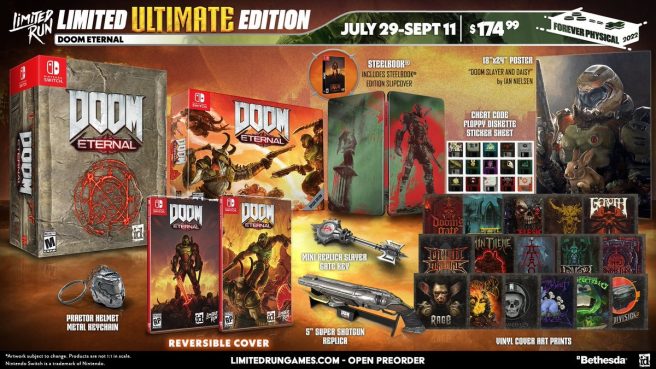 Limited Run Games announced last month that it's planning a physical release for Doom Eternal on Switch, and has now shared further details – including news about collector's editions.
Fans will be able to choose between four versions in total. The lineup includes a standard edition, Steelbook Edition, Special Edition, and Ultimate Edition. The Special Edition features the steelbook as well as a metal keychain, replica silver gate key, a poster, and more. The Ultimate Edition contains offerings from the Classic Edition plus vinyl cover art prints, am mini shotgun replica, poster with frame, and more.
Here's some information about Doom Eternal:
Hell's armies have invaded Earth. Become the Slayer in an epic single-player campaign to conquer demons across dimensions and stop the final destruction of humanity. The only thing they fear… is you.

Key Features

SLAYER THREAT LEVEL AT MAXIMUM
Experience the ultimate combination of speed and power in DOOM Eternal—the next leap in first-person combat powered by idTech 7. Armed with a shoulder-mounted flamethrower, wrist-mounted blade, upgraded guns, new abilities and more, you're the greatest demon slayer in existence.

PUSH-FORWARD COMBAT
Take what you need from your enemies. Glory Kill demons to recover health, incinerate them to receive armor and cut them down with the Chainsaw to stock up on ammo.

MOTION AIMING READY
Improve your aim with a control option that allows you to aim using gyro controls. The option can be used in conjunction with the control stick for the perfect blend of immersion and accuracy.

ENTER BATTLEMODE
A new 2 versus 1 online multiplayer experience pits a fully-armed DOOM Slayer against two player-controlled demons, fighting it out in a best-of-five round match of intense first-person combat.
The physical versions of Doom Eternal on Switch, including collector's editions, will go for pre-order up on July 29, 2022. Limited Run Games will be taking reservations on its website here.
Leave a Reply