Dragalia Lost Mobile Direct live stream, live blog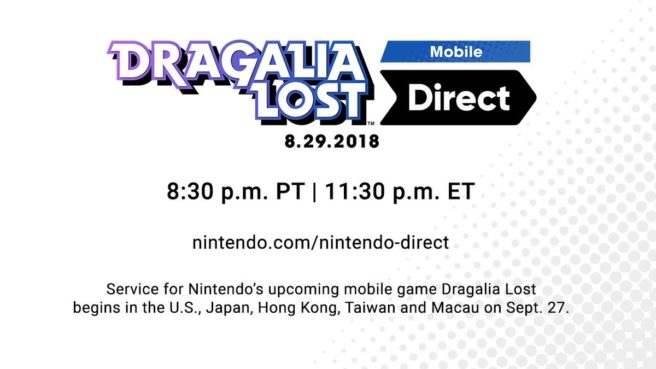 Ahead of its launch next month, Dragalia Lost is getting its own Nintendo Direct. The broadcast will be kicking off at 8:30 PM PT / 11:30 PM ET / 4:30 AM in the UK / 5:30 AM in Europe.
You can watch the presentation as it happens below. We'll also have a live blog going after the break.
Live blog
– Forest is one small place in a larger world
– Sacred Shard has protected kingdom of Alberia
– Power has begun to fade
– Replace the shard, and defeat monsters world will need a new source of hope
– Full English voices
– Alberian Prince is the main character
– Will have a party
– Action RPG
– Slide to move
– Direct control over your party while fighting and exploring
– Tap to attack
– Skill button: let loose a special ability
– Can quickly dodge out of the way by swiping
– Tap to switch characters
– Boss battles
– One boss shown: Rage builds up when attacked
– In overdrive, the boss's attack power increases
– Attack it to decrease the gauage
– When the gauge reaches zero, enters a Break state
– Shapeshifting: transform into a dragon
– Prove yourself in battles to the dragons
– Companions you meet can also shapeshift into dragons
– Each dragon offers something different in battle
– Elisanne: anointed lance
– Ranzal: Arc in the Storm
– Cleo: Belle Healer
– Unit types: attack unit, defense unit, support unit, healing unit
– Elemental properties: flame, water, wind, light, dark
– Sword, dagger, lance, wand, blade, axe, bow
– More than 60 characters to meet and welcome on your party
– Level, weapons, mana circle, halidom are ways to get stronger
– Acquire weapons on quests
– Changing weapons changes your fighting style
– Can strengthen weapons themselves
– Mana circle: provides a range of benefits; use it to strengthen attack power or skills, acquire new abilities
– Halidom: own personal camp where mines can produce gold, etc.
– Summoning: can grant you new companions with varied attributes, dragons, special items
– Gold stars indicate the calibur of those summoned
– If you summon two of the same character, you'll acquire Eldwater
– Eldwater increases number of stars companions possess by promoting them
– Wyrmprints: embody memories of the world
– These can enhance an adventurer
– Fight with four players (multiplayer simultaneous play)
– All quests playable in multiplayer mode
– Can create your own room and invite other players
– Multiplayer events planned
Leave a Reply