Dragon Quest Builders producer on decisions to split the game into chapters, Switch-exclusive content, more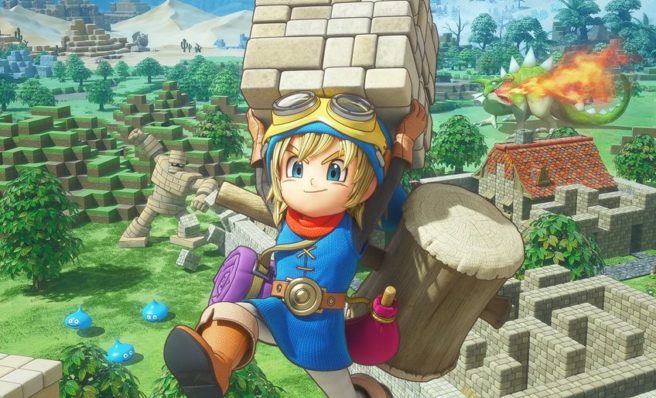 The Nintendo Treehouse Log has added in its latest entry, which features a Dragon Quest Builders interview. Producer Noriyoshi Fujimoto was brought in to discuss the game's inspiration, why the the game is split into chapters, making the Switch-exclusive content, and much more.
Continue on below for the full interview with Fujimoto.
Theresa:

This game takes place in the world of Alefgard—the setting of the very first game in the Dragon Quest series. Why did your team decide to return to this important location in the Dragon Quest franchise?

Fujimoto-san:

We felt the objectives and setting of the game would be intuitive if the world from the first Dragon Quest had fallen into ruin, and you were tasked with recreating it as you saw fit.

The final boss of the first Dragon Quest, Dragonlord, has a famous line, "I give thee now a chance to share this world and to rule half of it if thou will now stand beside me."

If you answered "Yes," the world would fall into darkness. Game over. But Dragon Quest Builders takes that world clad in darkness and allows you to rebuild it as you see fit. This game challenged us to create an alternative, hypothetical world, one that progressed differently in important ways.

Also, we used graph paper when we were creating the 2D pixel tiles of Alefgard's geography in the original Dragon Quest game. So, in a way, Dragon Quest Builders revives the original game world with both 2D and 3D blocks, and we hope everyone will play this reborn vision of Dragon Quest.

Theresa:

The cities you rebuild, like Cantlin, are from the first Dragon Quest game as well. How did the development team go about choosing which specific cities players would get to rebuild?

Fujimoto-san:

We had an idea to reverse the order in which players visited cities throughout the original Dragon Quest story. The flow we ultimately chose starts the player out near the Dragonlord's castle, sending them off to rebuild surrounding cities and finally revive Tantegel Castle, the starting area of Dragon Quest, only to return to the Dragonlord's castle across the sea.

Theresa:

On the subject of building, this is a pretty significant step away from Dragon Quest's traditional gameplay style. Why did you decide to reimagine an established RPG franchise as a building game?

Fujimoto-san:

The Dragon Quest numbered series continues to be created in the tradition of classic RPGs in which the hero saves the kingdom. While we use those traditional RPG elements as the focal point for non-numbered Dragon Quest games as well, we also use those titles to experiment with other ways to play in the Dragon Quest world.

With Dragon Quest Builders, we sought to create a play experience that had never been accomplished before—a marriage of Dragon Quest RPG elements and sandbox elements that lets you freely create things.

Sandbox-style games are not something that most Japanese players are deeply familiar with, and we developed Dragon Quest Builders with this in mind.

Theresa:

Looking at this game, some people might think that it's simply a building experience, but there's actually a really engaging story here too. Can you please tell us more about how this story was developed, and how the building elements were integrated into it?

Fujimoto-san:

From the very beginning, we decided that the overall story would be about getting caught up in the Dragonlord's trap at the end of the first Dragon Quest game, having the world fall to ruin, and then reconstructing the world. But we knew that charting out the plot and the building gameplay elements simultaneously would result in a half-baked, non-cohesive game. So, instead, we focused on designing the gameplay first, basing the mechanics on what we wanted the user to create at various points and what tools they would use to accomplish these builds. That way, even just the simple act of playing is fun and highly motivating. Finally, we then thought up details of the plot that would work well with these mechanics as we fine-tuned the gameplay.

Theresa:

Since the game's original release, how have you seen new players, as well as Dragon Quest fans, react to this "classic RPG-meets-builder" style of gameplay?

Fujimoto-san:

It feels like we've allowed Dragon Quest fans who haven't played a sandbox style of game to easily discover the fun of this play style through this carefully crafted mix of RPG and sandbox elements.

This is the same type of reaction we received when the first Dragon Quest game expanded the appeal of the RPG genre in Japan 30 years ago.

Theresa:

Since Dragon Quest is such a long-running series, there was a lot of deep lore for the development team to draw upon while working on this game. What is your favorite surprise or Easter egg hidden away for fans to find?

Fujimoto-san:

There's a lamp that you'll need certain building material to craft. If you make this lamp and place it in a room, some sort of change will happen to the villagers. In Dragon Quest, this is a household element and one minor, fun item.

Theresa:

While knowing Dragon Quest lore certainly adds to the experience, players don't need to have played previous Dragon Quest games in order to follow what's going on and enjoy it. How did the development team ensure that this game would be so accessible for new players?

Fujimoto-san:

For Dragon Quest itself, the game designer, Mr. Horii, always chooses mechanics that the player can instinctively understand, and puts his heart into creating something that anyone can relax and play without having to look at the manual. When Mr. Horii playtests a game still under development, he always plays it as if he was a brand-new player. Then we revise all the stumbling points.

Dragon Quest Builders was developed with similar tests in mind, ensuring that even those with no knowledge of the Dragon Quest series can freely enjoy the game.
Leave a Reply