Eiji Aonuma shares Zelda: A Link Between Worlds launch message on Miiverse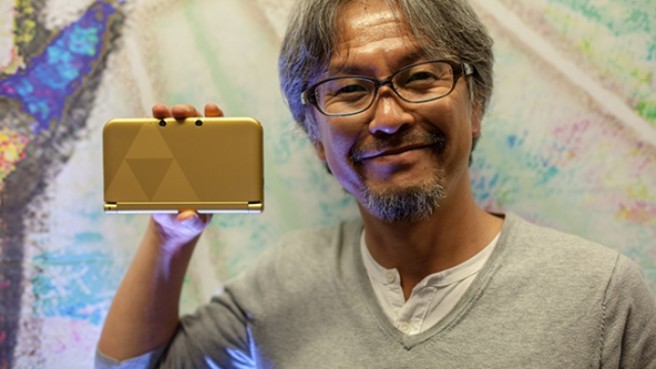 The Legend of Zelda: A Link Between Worlds is out now in North America and Europe. To celebrate, series producer Eiji Aonuma took to Miiverse and shared a message with fans.
Aonuma started out by officially confirming that A Link Between Worlds' Miiverse community will go live once the 3DS system update launches next month. He also spoke about one of the title's mini-games and Hint Ghosts.
For Aonuma's full message, read on below.
Hello, everyone in The Legend of Zelda community. This is Eiji Aonuma from Nintendo.

The Legend of Zelda: A Link Between Worlds for the Nintendo 3DS series is finally released in North America and Europe! Have you already played it?

As you know, this is not a Wii U game, so there won't be a designated community in Miiverse just yet. However, once the system update for Nintendo 3DS rolls out in December, Miiverse will be available in Nintendo 3DS. At that time, we'll make a designated community for A Link Between Worlds.

Until then, you cannot make a post "Directly!" from the Nintendo 3DS, but I hope you continue to share your game experience or anything about the game by making lots of posts to The Legend of Zelda community from the Wii U console in the same way as before.

In the "Iwata Asks" article on the official Nintendo website, there is a challenge regarding a cucco minigame given by the game's director. I tried to clear it myself, but the hurdle was really high! I hope you'll take up the challenge and post your results to the community.

Lastly, I have one advice as the producer. If you are stuck in puzzle-solving, you can ask for help to the Hint Ghost using Play Coins – this is one method, but aren't you forgetting something? The more you get into the game, the more you might forget about Link's special ability of turning into a panting to go inside walls, so be sure to try it out when you get stuck in the game. I think that will help you to make it through!
http://iwataasks.nintendo.com/interviews/#/3ds/a-link-between-worlds/0/0
Thanks to Arnell for the tip.
Leave a Reply