Famitsu shares more Monster Hunter X details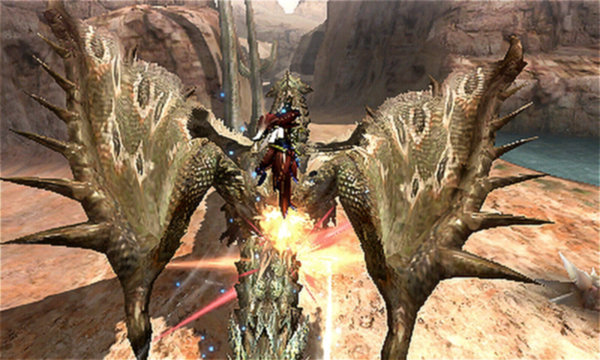 Hot on the heels of the Monster Hunter X announcement over the weekend, Famitsu shares more details about the new 3DS game in its latest issue.
Monster Hunter X features 14 weapon classes. Players will be able to choose from the Great Sword, Long Sword, Sword and Shield, Dual Blades, Lance, Gunlance, Hammer, Hunting Horn, Switch Axe, Charge Blade, Insect Glaive, Bow, Light Bowgun, and Heavy Bowgun.
Monster Hunter X will also include four main monsters, Famitsu states. Capcom is featuring a Brute Wyvern, a Flying Wyvern, a Leviathan, and a Fanged Beast.
Continuing on the topic of numbers, there are four Hunting Styles for all weapons, and you choose one of them. Here's a breakdown of each:
– Light Bowgun x Hunting Style 1: Shoot from high above the monster.
– Sword and Shield x Hunting Style 2: The blade changes and has added effects.
– Great Sword x Hunting Style 3: A powerful Hunting Technique causes an explosion. Specializes in Hunting Techniques.
– Dual Blades x Hunting Style 4: Dodge danger, like fire breath of Rathalos, and counter attack.
Hunting Technique is an attack action that varies by weapon. Functions include dealing massive damage, making the user stronger, and healing nearby allies.
When Monster Hunter X was announced, Capcom revealed that you'll be able to visit villages from previous Monster Hunter games. In addition to Yukumo Village from Monster Hunter Portable 3rd, you'll be able to travel to Pokke Village from Monster Hunter Freedom 2 and Kokoto Village from Monster Hunter/Monster Hunter Freedom.
Finally, a few more tidbits:
– Verna Village, the main village, is where you'll meet quest clients and manufacture weapons
– Felynes make an appearance
– The new fields includes a primeval forest with overgrown vegetation, a vast grassland, and a cave
Monster Hunter X arrives in Japan this winter. Famitsu says the game is 60 percent complete.
Leave a Reply