February 2022 Nintendo Direct live stream, live blog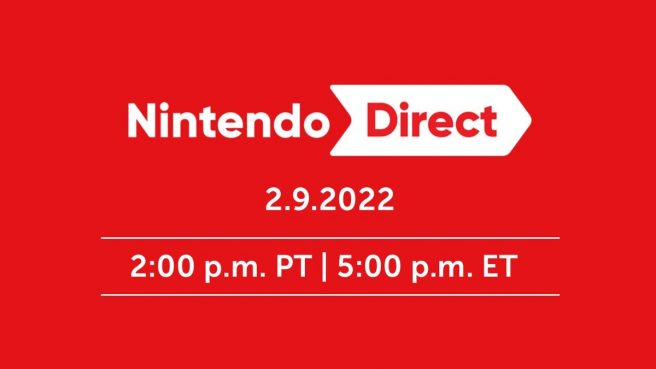 The February 2022 Nintendo Direct will be kicking off in just a bit, and we've set up a live stream. We actually have separate embeds ready to go for North America, Europe, and Japan.
As was announced yesterday, the event will begin at 2 PM PT / 5 PM ET / 10 PM in the UK / 11 PM in Europe. We mentioned this previously, but it'll focus on Switch games launching during the first half of 2022 – though Nintendo could go beyond that window for some games. In any case, we're in for 40 minutes of news.
You can watch the February 2022 Nintendo Direct as it happens with the live stream below. We'll also have a live blog going throughout the event plus additional coverage on the main site during and after it airs.
Live streams
Live blog:
Fire Emblem Warriors: Three Hopes
New entry in the Fire Emblem Warriors series.
Set in same universe as Fire Emblem: Three Houses
Arriving June 24, 2022
Advanced Wars: 1 + 2 Reboot Camp
Commanding officers are now voiced
Fast Forward option and Turn Reset options
Additional modes outside of main campaign
War Room, custom maps in Design Room, and both local + online play
Pre-orders available now, arrives April 8
No Man's Sky
No Man's Sky arriving on Switch
Open universe sandbox survival game
Arrives on Switch this Summer
Mario Strikers: Battle League

New entry in Mario Strikers series
5-on 5 soccer with tackles, items, and special shots
Customizable gear and stats
Hyper Strike: Orb that can be charged to allow for two goals to be scored at a time
Up to 8 players, 4 players each team in local play
Online play with Online Club mode for rankings among 20 players, compete against other clubs
Available June 10, pre-orders open now
Splatoon 3
Salmon Run returning, new boss Salmonids, "Fish Stick", "Flip Flopper".
Can throw Salmon Eggs to other players at a distance.
New Special Abilities shown.
Mode titled "Salmon Run: Next Wave"
Arriving this Summer
Front Mission 1st: Remake
Play as mechanized machines called Wanzers
Turn based strategy, aim at enemy parts to defeat them
Customizable Wanzers
Arrives this Summer
Remake of Front Mission 2 is planned
Disney Speedstorm
Play as Disney Pixar characters
Free to play
Each racer has special abilities
Cross Platform, splitscreen, and online Multiplayer
Arrives this Summer
Star Wars: The Force Unleashed
Ported to Switch
Motion controls are optional
Comes April 20th
Assassin's Creed: the Ezio Collection
Arrives on Switch February 17
SD Battle Gundam Alliance
Arrives this year
Chrono Cross: The Radical Dreamers Edition
Remaster of Chrono Cross coming to Switch
Arriving April 7, pre-orders open now
Kirby and the Forgotten Land
Objective is to save kidnapped Waddle Dees
Mouthful Mode, abilities based on large objects Kirby inhales, separate from copy abilities
As more Waddle Dees are rescued, Waddle Dee town expands providing new resources. Copy Abilities can be evolved for new attacks. They also change appearance. Some evolved forms are stronger.
Enemies are called the Beast Pack
Arrives March 25, pre-orders open now
MLB: The Show 22
Latest entry in the MLB: The Show baseball series
Cross-progression across any platform the game is on.
Cross-platform play online
Coming April 5, pre-orders available now
Kingdom Hearts: Integrum Masterpiece Cloud Version
Collection of all 3 game collections
Arrives on Switch tomorrow
Cloud Versions can be bought separeately
Klonoa Phantasy Reverie Series
Collection of Klonoa platformer series
Arrives July 8
Portal: Companion Collection
Collection of Portal and Portal 2
Coming this year
Live a Live
RPG being brought West for the first time
History themed stories
Available July 22, pre-orders open now
Nintendo Switch Sports
Successor to Wii Sports series
Features motion controls.
Includes Bowling, Chambara, and Tennis.
Also includes Soccer with a giant ball.
Physical edition includes a leg strap accessory.
Badminton and Volleyball also included.
Features both local and online play for all sports with friends or random skill-based matchmaking.
Arrives April 29, free update planned for Fall that will introduce Golf
Online Play Test is planned for February 18-20 for Nintendo Switch Online members
Taiko no Tatsujin: Rhythm Festival
New game in the Taiko no Tatsujin rhythm game series. Includes songs like Megalovania and the main Legend of Zelda Theme, over 76 songs total
Up to 4 players can play together at a time
Arrives this year
Paid in-game subscription service for over 500 songs at launch
Triangle Strategy
A new demo that goes up to the end of Chapter 3 is available starting today. Save files can be transferred to the full game
Cuphead: The Delicious Last Course
DLC arriving June 30
Metroid: Dread
Free update coming today, adds a Rookie Difficulty and Dread Difficulty. Boss Rush update coming this April
Earthbound
Earthbound and Earthbound Beginnings are coming to Nintendo Switch Online today
Zombie Army 4: Dead War arrives April 26
GetsuFUmaDen: Undying Moon arrives today
Demon Slayer – Kimetsu no Yaiba- The Hinokami Chronicles coming June 10
Lego Brawls coming this June
Two Point Campus coming May 17
Mario Kart 8 Deluxe
Booster Course Pass, bringing 8 courses at a time for a total of 48 by the end of 2023, many classic courses.
Arrives March 18, costs $24.99 or free with Nintendo Switch Online + Expansion Pass membership. Pre orders open now.
Xenoblade Chronicles 3
Latest entry to Xenoblade Chronicles series, arrives September 2022
Leave a Reply