Fire Emblem Heroes directors on developing Fire Emblem for mobile, update plans, more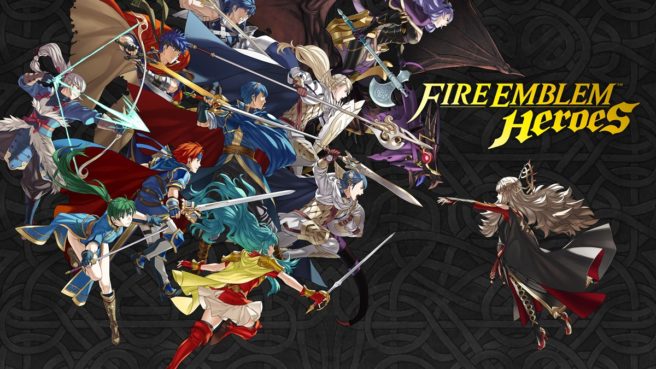 Famitsu conducted an interview with a couple of the developers behind Fire Emblem Heroes this month. Intelligent Systems director Kouhei Maeda and Nintendo director Shingo Matsushita were able to provide some additional insight into the mobile game.
To start out, the interview touched on how Fire Emblem Heroes came to be. Matsushita explained that when Nintendo decided to begin developing for smartphones, one of the candidates was Fire Emblem. They've been thinking from the beginning about making something that can allow many people to experience Fire Emblem as a strategy RPG.
Maeda chimed in as well, and said Intelligent Systems had also been wanting to release a Fire Emblem title for smartphones, so they've been looking into it for quite some time. When the company began talking with Nintendo, they were thinking about developing it along the lines of "making the newest title in the series". The mainline Fire Emblem dev team worked on both this game and Fire Emblem Echoes for 3DS at the same time.
According to Matsushita, there wasn't any consideration to make Fire Emblem Heroes a game that you purchase since they wanted it to be experienced by many people, including those who never gave the series a shot before. The important aspect is to "know about it first", so it was made free-to-start from the beginning.
The team also wanted to put in many characters from the start. There are nearly 800 characters in the whole series, and that's just counting the important ones. Fans have a tendency to have different favorite characters, so to appease as many people as possible, many were included.
Fire Emblem has been ongoing for twenty years, Matsushita didn't think there would be too many people who played every single title in the series. The team wanted players to get a feel for characters they've never seen before, so from the start, they wanted to bring in a random factor on recruiting characters – in other words, the summoning system. Matsushita hopes players will get to know characters they were previously unfamiliar with, and also become interested in their related games.
In developing Fire Emblem for smartphones, making it easy to play was a big factor. For example, being able to play a map in around five or ten minutes and being able to play with one hand were important elements. While making it a Fire Emblem that can be leisurely played by newcomers, they also retained features that makes Fire Emblem interesting as well as from a strategy standpoint.
The map size was determined to fit the screen to make it easy to play. After considering the size of grids that can be easily touched and allows simple controls, 8×6 was the best option. With this the developers could make maps with both simplicity and strategy. If you had to scroll through the map, the controls became much more difficult.
Maeda later points out that the latter maps (stages) also basically can be cleared in five to ten minutes, but the enemies are stronger. Even with a small map the effects from movements will be bigger and also takes more time for players to complete.
Fire Emblem Heroes features fifty maps for the main scenario upon release. Going forward though, the game will be updated with more stories. Matsushita joked that you can imagine it as the ending to season 1, and to please wait for season 2.
Maeda says that roughly 100 characters were planned for release. The team didn't include characters from every single title because characters were picked that are appropriate for the game scenario. However, Matsushita reiterated that there's interest in adding more characters in the future. There are titles that weren't featured at launch, but that doesn't mean they were forgotten. So to those who are wondering why heroes from a certain title are missing, he hopes fans look forward to them appearing.
Some characters will be added via main stories, and some other will be through paralogues. When new characters arrive, stories and maps related to them will be distributed as well.
As an example, Matsushita brought up when a new Fire Emblem game on comes out like the upcoming Fire Emblem Echoes, they'd like to add things that are related to them. The team will continue to add characters based on requests from everyone.
Towards the end of the interview, Famitsu brings up how in the original Fire Emblem games, some characters don't really raise their stats when they level up such as Jagen. The magazine asked how that's approached in Heroes.
Maeda said that Fire Emblem Heroes does depict some parts from the original titles, but ultimately the parameters should not have an extreme gap. If you raise Jagen to 5 stars, he can also become very strong. However, even with the same Jagen, you can see some variations in the stats such as being very agile but with low defense.
Famitsu then says that the same character may have a different rarity from 1 to 5 stars, and asks if their final stats have differences. Maeda responded by noting that there are no differences stat-wise. The system makes it that, as an example, when you got a 4-star Marth, if you raise him well he can grow to an equivalent of 5-stars.
Matsushita added that the game wasn't made so that non-5-stars never get strong in the end. They don't want players to prefer stronger 5-star characters than their own favorite characters.
Leave a Reply