First Shin Megami Tensei IV Final details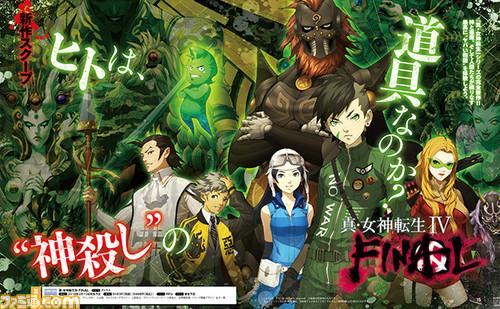 Yesterday, Famitsu revealed that Atlus is developing Shin Megami Tensei IV Final for 3DS. First details about the game have since leaked out of this week's issue.
Here's what we know thus far:
General
– Takes place in Tokyo
– Year 203X
– In order to avoid destruction from the war against the gods that suddenly broke out 25 years prior, thick bedrock was made to cover the sky
– This also prevented any contact with those outside
– It wasn't long until the battle ended, and the people of Tokyo began to fight and murder others for the little amount of supplies and resources that remained
– The people have become ruled over by the angels and demons that stood atop the food chain
– Masashi Doi is working on character designs
– See the likes of Merkabah, Lucifer, and others, including Medusa from the previous game, in their refined forms
– 90% complete
Protagonist (CV: Hiro Shimono)
– Has been spending his days as an apprentice of an organization called the Inhumanity Hunter
– While out on a mission, he takes a surprise attack from a demon, and dies
Mysterious Demon (CV: Shuichi Ikeda)
– Wanders the underworld after the protagonist dies and forms a contract with him
– The protagonist is given a new life and the ability to summon demons
Asahi (CV: Seike Tomoko)
– 15-year-old girl and childhood friend of the protagonist
– Part of the Inhumanity Hunter organization
Navarre (CV: Shintaro Oohata)
– Same Navarre from Shin Megami Tensei IV
– After losing his life for something petty, he meets the protagonist when he wasn't able to properly go to the afterlife
– Currently has the form of a green body
That's all thus far! We'll let you know if any other notable information comes in.
Leave a Reply