Flashback 2 out in November, physical release detailed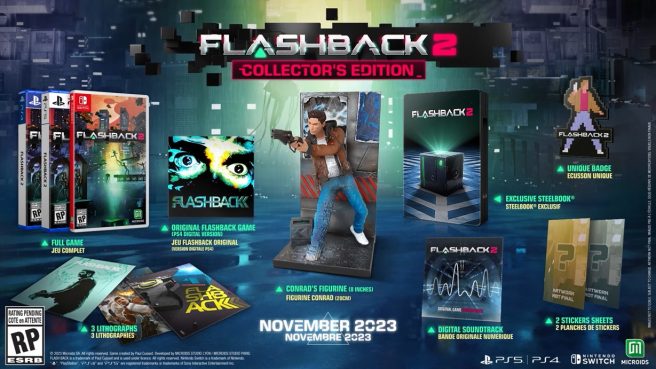 Publisher Microids, Microids Lyon/Paris Studios, and Paul Cuisset today shared more specific release date plans for Flashback 2 as well as news about the game's physical release.
Flashback 2 was originally announced in 2021 and was planned for 2022. However, it was delayed to 2023 about a year ago.
Here's an overview of the game:
In 1992, Flashback revolutionized action gaming and gained legendary status, ranking amongst the top 100 video games in history! Developed by the game original creator Paul Cuisset, in collaboration with Microids Lyon/Paris studios, Flashback 2 will offer an experience faithful to the Flashback universe, bringing back together some members of the original Flashback team, such as Thierry Perreau in game design and Raphaël Gesqua, the renowned composer of the Amiga version of Flashback.
Flashback 2 will have two physical editions: limited and collector's. The limited edition includes a copy of the game, an exclusive steelbook, and the digital soundtrack. The collector's edition has all of these items plus the original Flashback game in digital format, an 8-inch (20cm) figurine of Conrad, three lithographs, a unique badge, and two stickers sheets.
A new trailer promoting the November release date for Flashback 2 can be found below.
Leave a Reply