Gengar joins the Build-A-Bear Pokemon line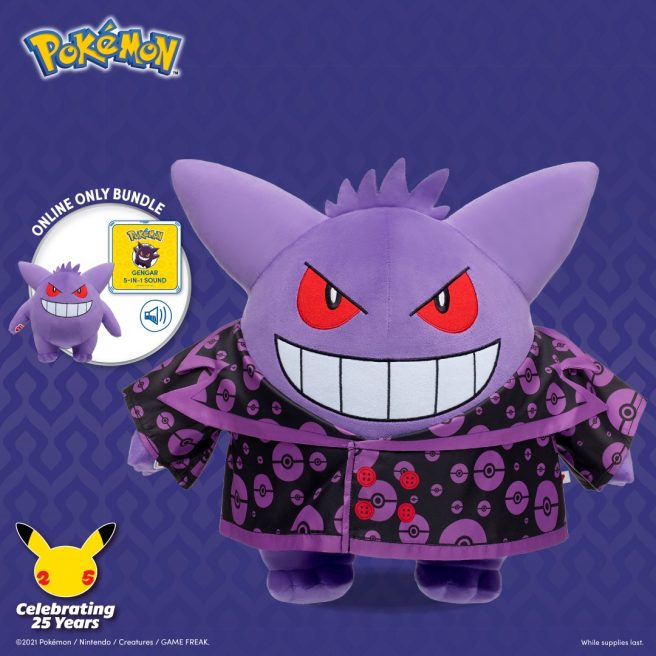 Yet another Pokemon has been added to Build-A-Bear, and this time it's Gengar. The new plushie can be ordered now.
Gengar at Build-A-Bear comes with an oversized coat and 5-in-1 sound chip as part of the exclusive bundle. The Pokemon itself is a Ghost- and Poison-type with soft spikes, big red eyes, and a toothy grin.
Prior to Gengar, the last toy at Build-A-Bear was Umbreon. That one was just made available at the end of August. We're closer to seeing all Eevee evolutions as Vaporeon, Jolteon, Flareon, and Espeon have also been sold by the retailer. We're now waiting on Leafeon, Glaceon, and Sylveon to complete the set.
The collaboration between Build-A-Bear doesn't seem to be slowing down anytime soon. Their partnership started in 2015, and new plushies have been released on a sporadic basis since then. We haven't even hit 30 plushies yet, and the Pokemon series itself has seen about 900 creatures and counting. Needless to say, Build-A-Bear has some catching up to do and the company will likely be picky about which products it puts out.
You can order the new Gengar Build-A-Bear here. Pricing is set at $53.
Additionally, all Build-A-Bear news on the site can be found here.
Leave a Reply