Build-A-Bear Umbreon revealed, orders live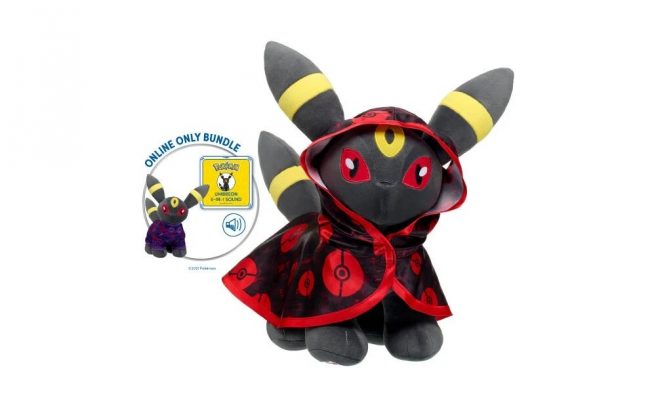 Gen 2 Pokemon fans will be happy to hear that Umbreon is now getting the Build-A-Bear treatment. By ordering the online bundle, you'll receive the plush with 5-in-1-sound, sleeper, and cape accessories.
Here's the official product description and where to order:
Umbreon is one of the newest Eevee Evolutions at Build-A-Bear Workshop! Make lots of moonlit memories alongside this creature of the night. This Dark-type Pokémon has large ears, red eyes, and black fur with distinctive yellow markings. Pokémon Trainers will love this exclusive bundle, which includes a red Poké Ball cape, purple Poké Ball sleeper and 5-in-1 sound chip for the shadowy Umbreon!
For those interested in the Dark-type Pokemon, the new Build-A-Bear Umbreon plush can be ordered here. The full set costs $65. However, fans can also purchase the standalone Umbreon plush with 5-in-1 sound for just $40. The sleeper and the cape can be bought individually at $12.50 for each accessory.
Pokemon's partnership with Build-A-Bear goes all the way back to 2015. Pikachu kicked off the line, though we've seen a ton of other plushies since then. And after Eevee released in 2016, we've seen plushies for its various evolutions including Flareon, Jolteon, Vaporeon, and most recently Espeon.
Leave a Reply